15 Easy Hairstyles for Work You Can Do in Less Than 1 Minute!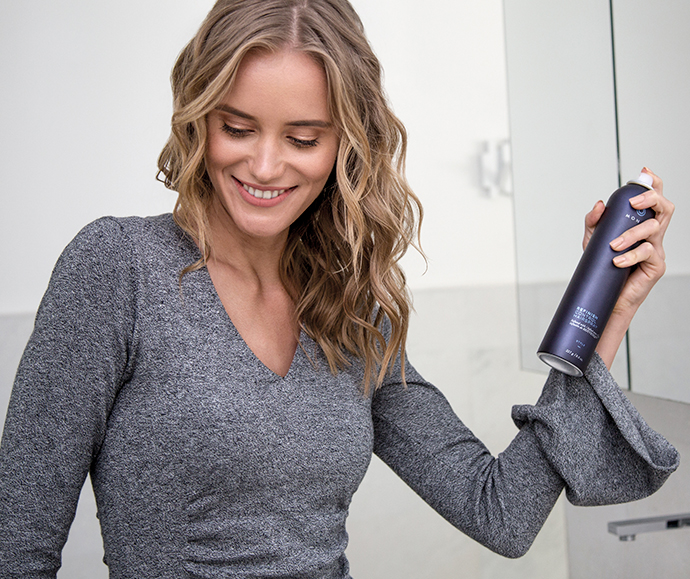 If you are like most busy working women, you feel like you're constantly pulled in a million different directions while your mind works triple-time to stay on top of it all.
Sometimes even think about, What am I going to do with my hair? when you're already running late for work is enough to send you over the edge.
Don't stress. In order to take one small detail off your mental load, here are some of the best, new, and easy hairstyles for work to whip up in less than a minute!
Snazz it Up with Accessories
Accessories are perhaps the quickest way to throw cute hairstyles for work together when your time is seriously limited.
1. Half-up Hair-Wrapped Scarf. This is one seriously time-saving look. The trick is to find a hair scarf with an elastic back.
Part your hair and place the scarf over your hair in the back and about an inch past your hairline in front. Take approximately one to one-and-a-half inch section on either side of your part and wrap those sections around, covering the band, until the sections meet in the back. Leave the sections hanging down in a small pony under the scarf.
2. Hair Down Scarf. No time to wash your hair again? Using a thicker scarf is the way to go.
Comb your hair straight back or part it. Tie a scarf around your head, knotting in either the front or the back. If the scarf is longer, the back may work best. Opt to pull out tendrils in front, or leave it sleek.
3. Scarf Bun. This is for the day you wake up late and your hair just will not cooperate. Fashion a quick bun by pulling all your hair up into a bunch and winding an elastic over the whole mess. Then, simply tie a front-knotted scarf around the bun. Remember, the messier, the better!
Bonus: The scarf covers any head bumps created from carelessly gathering your hair together when you don't have time for a brush.
4. Fun Costume Barrettes. Elaborately-designed barrettes are best paired with plain, solid clothing and simple hairstyles, meaning they can serve as the point of interest and really dress up an otherwise dull ensemble.
Put on a basic black uniform or outfit comprised of other neutrals, pull hair back in the most basic half-up, one side up, or all-up style, and let your barrette do the dazzling.
5. Headbanded Messy Side Bun.
Here is another pulled-together look that takes almost no time. Part your hair on the side and pile it into a messy bun near one ear. Spritz with
Refinish Control Hairspray
, and position a headband where you like it to keep the style in place.
Weave a Quick Braid
Those who say braids take too long are simply misunderstanding us here. We're not talking about the carefully measured, parted, sectioned off type of braid that will stay in place through a marathon. These braids are loose, messy, and intentionally imperfect.
6. Bun with a Braided Front.
Don't bother getting all fancy and intricate here; we don't have the time! Weave a simple classic braid with a 1-2 inch section of hair from your part in front down to the ends of the section. Then, simply twist it all into a
messy bun
.
7. Messy Mermaid Side Braid. The classic, carefully-measured and sectioned, neat-style French braid can be very time consuming, but its messier, carefree version can be done in a fraction of the time.
By starting low on the side of your head and taking large strips of hair at a time, you can manage a loose French braid with only three or four passes. Tie the braid off with a mini-elastic and strategically pull loops out to create that accidental-on-purpose volume.
8. Simple Pony Braid. This one is fairly self-explanatory. Pull hair into a pony, secure with an elastic, and braid down to the ends. You can fluff out the braid for a more voluminous look if there's time…
Leave it Down (ish)
So you went out last night with your hair looking fabulous but slept in and now it needs help—stat. With some
Blow Out Cream
and a few simple tricks, you can indeed salvage last night's hair with style (whatever it was) intact.
9. Tiny Twist-Back. For a youthful, work-appropriate down-hair look, separate a small triangle of hair near your front hairline and pull it down in front of your face. Beginning at the scalp, twist it down a few inches, flip it over, and pin it in place at the crown.
10. Hair-Headband. If you're racking your brain trying to think of easy-to-do hairstyles for work, remember this basic go-to technique to keep it off your face.
Part your hair and section about an inch of hairline hair on either side. Pull the rest into a temporary top knot. Lay the two sections down on the sides of your head and secure with a mini elastic at the nape of your neck.
11. Messy, Scrunched, Wet Look. When looking for easy hairstyles for work, there are also options for after washing your hair but don't have time to blow dry.
Simply step out of the shower, towel dry, and work some
tousling mist
through your tresses. You can leave it in the wet look, or do a quick partial blow-dry while crinkling pieces to make beachy waves. Be sure to finish with anti-frizz serum.
If your hair gets too out of control, pin a portion back or add an accessory. This cute look is just as easy to do with shorter cuts as it is long hairstyles for work.
Throw it Up (ish)
When you're running super short on time, sometimes the best thing you can do is throw your hair up and hope for the best. Here are some variations that will make it look purposeful.
12. Twisted Rosette Bun. We love teaching how to style hair for work that looks like you spent much more time on it than you actually did. This twisty bun is a perfect example of easy long hairstyles for work, but if your hair is shorter, we suggest going with the back down and doing a half up rosette.
Pull your hair into a basic pony and secure with an elastic. Split the pony into two halves and twist to ends of hair. Spiral the twist around your pony and secure with pins. Fluff out strategic loops of the twists for a fuller rosette.
13. Simple Hair-Wrapped Pony. Speaking of how to do quick hairstyles, the hair-wrapped pony is a classy take on the simplest look known to hair.
Section off a one to two-inch section of hair on the long side of your part to leave hanging down, bringing the rest up into a secured pony. Brush the remaining section smooth and lay it down the side of your head, pinning into place.
Then, bring the hair under your pony and loop around it several times until the elastic is covered in hair, pinning the ends of the section under the pony.
Again, this example is great for how to wear long hair up for work, but if your hair is on the shorter side, you can easily try this technique in a half-up style.
14. Uber-Long and Full Messy Tendril Pony. Some of the most important tricks in how to do hair for work involve making hair seem more voluminous and lively.
Separate your hair into top and bottom sections. Secure the top half in an elastic and place the bottom in another elastic just underneath the first. Tease and fluff out the top pony to cover the bottom, securing with pins as necessary. Pull out strategic tendrils and finish with
styling spray
to keep fullness on top. This works well for both long and short styles.
15. Twisty, Topsy Pony. Depending on your age, you may remember the topsy tail fad of your youth. While this gadget came with some fun styles, it turns out the tool itself was pretty unnecessary, as this style is easy to execute using just your fingers.
Fashion a loose pony and part the hair between the scalp and the elastic. Take the tail and push it up, through and under or down, through, and over the loop you just made. This is yet another look shorter styles can do using a half-up approach.
Doing Your Hair Before Work Just Got Easier
With your arsenal full of these easy hairstyles for work, we dare you to see just how far you can stretch your snooze button!