How to Layer Hair Products the Right Way for Good Hair Days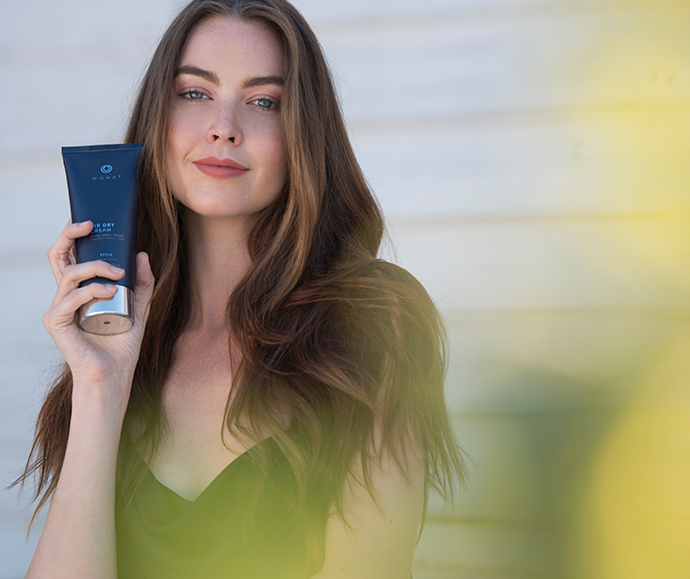 This has happened to all of us…
You visit the salon and leave with a vibrant, shiny, bouncy new hairstyle, feeling like a million bucks.
The best part is, your hair stylist made it seem so simple. He or she likely even talked you through an array of basic hair styling products as well as the process of what order to apply hair products for optimum results.
In the serene, ambient environment of a high-end salon, complete with hot towels and the scalp massage, you often get lulled into a zen-like daze. You find yourself thinking, "No problem. I know how to use hair products and I can totally do this at home", maybe without actually paying attention. You may even leave with a tote bag of hair styling product samples that you can't wait to try.
You manage to hang on that "new hair" look and feel for a few days, but now it's time to shampoo. You look at your array of products… Which ones did your stylist use when your hair was wet? What order did he or she apply them? How did he or she apply them? Do you apply the mousse or heat protectant first?
In an effort to recreate your hairstyle, all you did was make a giant, gloppy mess of your hair.
Epic. Fail.
Does this sound familiar? If so, don't stress! We won't judge! In this article, we will walk you through how to apply hair product in seven easy steps. By the end of this article, and with a little practice, you will know how to layer hair products the right way, so you always have a good hair day.
7 Easy Steps to Layering Hair Products the Right Way
1. Pre-Wash Prep
Some people hit the shower for a good, old-fashioned shampooing. However, taking the time at least once a week to use a quality oil treatment, such as
REJUVENIQETM Oil Intensive
can help transform your dry, brittle, lackluster locks into the vibrant, shiny, bouncy, fresh-from-the-salon hair. Depending on the severity of your dryness and your hair type, leave the treatment in for 15 to 30 minutes.
If your hair tends to be fine and oily, then the oils in this treatment may be too heavy. Try Rejuveniqe Light by MONAT™ to gain all the healthy hair benefits without weighing down your tresses.
On the days you are in a rush and don't use the Oil Intensive, you can restructure your hair with
Restructuring Pre-Wash Conditioner
. This product only needs five minutes to work its magic. It can also dramatically improve hair elasticity by restructuring and resurfacing to reveal shinier, stronger hair.
Pre-shampoo treatments act as cuticle-sealers that can protect your hair from both styling and environmental stressors.
2. The Shampoo
Step into the shower, rinse out your pre-wash treatment, and begin shampooing. However, don't use just any shampoo. It is important to use a quality product without any parabens or phthalates. Your shampoo should also strip your hair of dirt and debris to properly prep it for the styling products you will use later. A truly great shampoo does all this while also helping to repair damage and provide you with healthy oils to enhance your hair's natural, healthy sheen.
We recommend the
Hydration System
for healthy, moisturized locks. This naturally-based proprietary blend of plant and botanical extracts, healthy oils, and protectants without any of the harmful and toxic ingredients like other major hair product lines.
3. The Replenishing Masque
So you used a shampoo and conditioner. That means you're done, right? Not quite. As studies, research, and technology have improved, this traditional hair care regimen has become obsolete. Today we know a lot more about how to layer hair products. Therefore, using a deep
Replenish Masque
like the one in MONAT's hydration system can help make all the difference in the overall health of your hair.
This ultra-rich, deep masque repairs breakage, softens, and strengthens hair from the inside out, transforming your damages, brittle, over-processed locks in just 5 to 10 minutes. Leaving it on while you finish your shower routine increases the natural shine and vibrancy of your style.
Implementing this step into your hair care regimen means your hair will ultimately require less styling products over time to achieve the look you're after.
4. The Leave-In Conditioner
Apply a leave-in conditioner and comb through your wet hair to help tame frizz and flyaways, leaving hair smooth, manageable, and ready to style.
The MONAT Restore Leave-in Conditioner
is infused with Rejuveniqe™ Oil Intensive, meaning it will increase brilliance, strength, and vitality over time, building a healthier foundation from the hair shaft out.
Many people skip this step, but it is an important milestone in the process of how to layer hair products. It also provides a sleek foundation for your other hair care or styling products.
5. The Styling Agents
After you use your leave-in conditioner, use a styling
mousse
,
texturizing mist
, or both to gain volume and lift or get that textured look. These lightweight formulas help transform your flat hair into multidimensional interest.
6. The Pre-Heat Treat
If you use heat tools such as blow-dryers, flat irons, or curling wands on a regular basis, then it's important to use a heat protectant product. A
blow-out cream
will give your hair that silky, smooth feel while protecting it from the damaging heat from your blow-dryer, curling or flat iron, or other styling tools.
The Hair-Healthy Alternative: Skip the Heat
The truth is, while we try to protect our hair from heat damage, those heat-based styling tools are still harmful to use every day. We all love the look and feel of a fabulous, voluminous blow-out every now and then, but daily usage can be devastating to your hair's health. High temperatures can crack hair cuticles, causing frayed and split ends, which lead to frizz and faded color.
When your hair is truly healthy as a result of using high-quality restorative products on a regular basis, then you can still have a great hair day without relying on using damaging heat tools by using an
air-dry cream
. This allows you to show off your healthy hair's natural pattern.
A quality air-dry cream provides texture and eliminates frizz without weighing down your locks. You can pair this with a mousse, texturizing mist, or
sculpting taffy
for an ultra-dimensional look.
7. The Finishing Touch
Depending on your desired look or hair type, you may want to finish with a
variety of products
. If your hair is especially dry or prone to frizz, try using a
serum or oil
. To hold curl or wave in fine, straight hair, try using a spritz on a
finishing control spray
. To give extra definition and texture to your tresses, you can apply a
sculpting taffy
at this stage as well.
Style On!
Getting beautiful, healthy hair that you want to show off shouldn't be difficult. While we all love a salon day, and that fresh-from-the-salon look afterward, it doesn't have to end!
When it comes to your everyday hair routine, practice makes perfect. Scientific evidence suggests it takes our brains approximately 21 days to form a new habit. Give yourself a break and try to remember these seven easy steps for how to layer hair products.
Don't forget that investing in quality products will make all the difference in how easy or difficult styling your hair will be. Choosing a proven, safe, non-toxic product line like the ones from
MONAT
can ensure your hair shines from the inside out and becomes healthier the longer you use it.