25 Easy Romantic Hairstyles for Long Hair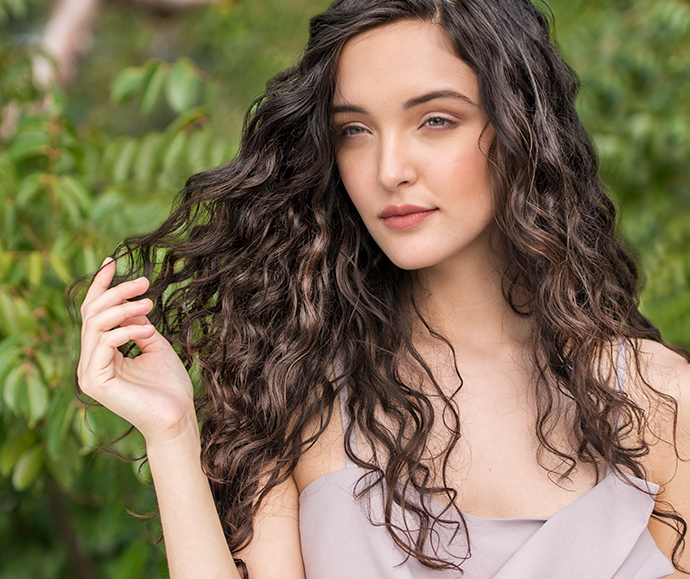 Stuck in a hairdo rut?
Are you tired of rotating the same three or four tired looks?
If so, you probably have searched Google images, Pinterest, or even Instagram, looking for that perfect do.
You have probably found tons of pictures of glamorous 'dos and long, romantic hairstyles, however, many are just too time-consuming and complicated to be practical for daily wear.
Not to mention, the actual results never end up looking like the picture!
We get it. So, we have found the top 25 easy, romantic hairstyles for long hair that you can easily add into your regular rotation for date night, the office, weekends with friends—and that don't end up like a Pinterest fail—and that are easy to pull off with time to spare.
Wear-It-Down and Sultry Looks
Nothing says romance like long, flowing locks, but who has the time to curl, straighten, or wave every day? Here are some easy, romantic hairstyles that take less time and look just as great.
1. Front-knotted Scarf. This look could not be simpler and is one of the most eye-catching and romantic hairstyles for long hair.
Part your hair or comb it straight back. Simply roll a scarf lengthwise and place around your neck. Bring the sides up and tie in a knot at the top of your head. You can pull pieces out in front or leave it all behind for a sleeker look.
2. Sleek Blowout.
We know, you've tried the "blow-dry-and-go" look, but it always seems to fall flat. With just a few tricks and a little know-how, you can perfect this process. See
these expert tips
to help you get it right.
3. Faux Hair Braid. This clever hairdo trick looks like you spent time expertly crafting the perfect wrap-around braid. The trick here is to get an exact match to your hair color so it doesn't look obvious. You can also twist a strand or two of your own hair around the braid to help it blend in.
4. Costume Barrette. We are loving the new costume barrette trend. Part your hair on the side and choose to barrette a section of either side of the part back as far as you like. There is no wrong way to wear this look.
5. Overnight Braid Waves.
Either wash your hair at night or wet it with a spray bottle of water and leave-in conditioner. (We recommend
Densify Duo system
for best results).
For crimps that aren't too tight, we suggest parting the hair and forming two loose French braids. Spritz with a holding spray and go to bed.
In the morning undo the braids and run an anti-frizz serum through the bottom portion and you're good to go!
6. Ragtie It! Want natural looking waves or curls that won't damage your tresses? Cut strips of fabric or use thick leftover ribbon. Separate wet hair into sections, and place a strip horizontally, rolling up the hair around it. Remember, the smaller the sections the tighter the curls!
Again roll as tight or loose as you desire, then knot it off where you want the curl to stop.
Untie in the morning, shake out the curls, and finish with a holding spray. The curl will stay for days!
7. Go For a Messy, Wet Look. Fresh out of the shower in the morning, you can simply work some styling creme through your hair, blow it dry, and finish with some anti-frizz serum.
8. Add a Twist. Want to wear your hair down but need to keep the front out of your eyes? A simple section twisted back or to the side and bobby pin it where you like.
Alluring Half-Up Looks
9. The Half-up Bun. This look works whether you have straight, curly, or wavy locks. The beauty of this style is that it's meant to be messy. Pull the top half into a pony, bun it, and pull out tresses as you desire.
10. Fashion a Half-up Hair Bow. This looks complicated but it's incredibly simple. Pull the top and sides of hair into a pony and top-knot it, leaving a 2-inch tail at the back. Part the bun in the center and pull the tail of the top knot to the front, pinning the ends under the elastic.
Fluff out the bun and pin the ends of the sides to your head. Secure any errant strands in place with more pins.
11. The 4-Square Knot. Part your hair where you like it. Take a 2-inch section on either side and pull back around the crown of the head, tying the two sections together in a simple over-under-through half-knot.
Repeat until you have four hair loops. Secure the knots to your head and fluff out the loops as desired.
12. Weave a Loop-de-Loop. Starting the same way as the 4-square knot with a part and 2-inch sections of hair, secure the two hair strips together with an elastic.
Take another 1-inch strip below the first on either side and loop it through the first. Secure the two ends of the second sections under the first.
13. Use a Scarf Headband. These headwraps look like your favorite vintage scarf but are equipped with elastic in the back. Part your hair to one side and place the scarf over the back of your hair and an inch or so past your hairline in front.
Take one, half-inch section on either side and wrap it around toward the back, covering the band. When the two sections of hair meet, leave the tails hanging down under the scarf. The result is a romantic hairdo that takes just minutes.
14. Rose Twist. If you're going for a truly romantic hairdo, what could be better than creating a rose out of it? Pull the front and sides of your hair into a pony, split it in two, and twist to the ends. Wind the twist around the pony in a spiral, securing it to the head with pins. Fluff out your "petals."
Boho Braided Looks
15. Diagonal Waterfall Braid. Most of your hair will be left down for this. Part your hair on the right and work left. Starting at the part, begin a classic three-piece braid leaving the left strand to hang down with each new knot of the braid, grabbing a new left piece as you go. The diagonal comes into play by going lower on the hair shaft each time.
This technique sounds complicated, but once you get the hang of it, it takes just a few minutes to pull off.
16. Master the Fishtail. This is one look that seems more intimidating than it actually is. We suggest a tutorial to get it just right the first time. It's basically a classic three-section braid, but part hair in just two sections and use a super thin third section of hair from the far end of either side of your head each time.
17. Upside Down Braid Bun. This is another one that can take some practice, but it's a great look to have in your repertoire. Flip your head over and try a simple French braid from the base of your hair up to the top of the crown. Secure it with an elastic and then pull your remaining hair into a simple high poufed top knot.
18. Pulled-Apart Side Braid. This voluminous, asymmetrical braid has become a classic in the easy romantic hairstyles for long hair category. It's just a basic diagonal movement French braid, beginning on one side of your crown and slanting down over the opposite shoulder.
Secure the end with a mini elastic and strategically pull out and fluff up loops of the braid. The end result is voluminous, artistic, and sexy.
Romantic Updos
19. The Banana Clip is Back (but hidden). Who doesn't love the waterfall look of a curly, cascading updo? Using a banana clip is an amazing hair accessory for anyone who wants to know how to do big hair updos with long hair.
To get this look, curl hair as desired (ragtie curls are a great technique for this). Open the banana clip and slide through hair, clipping at the top.
Pin curls to hide the clip, and you're done!
20. Pin a Simple Top Knot. If you're looking for how to do easy updos for long hair, this one is as basic as it gets, but with a serious WOW factor.
Curl or wave your hair as desired. Secure hair on the top of your head with an elastic, making a small top knot. Pull the tail so tail hair comes out all along the perimeter of the elastic.
21. Get a Foam Bun Filler. Love the sleek look of a perfect bun but can't seem to pull it off? We're here to help you cheat with a foam donut bun.
Pull your hair into a pony. Slide the donut over the pony and pull to the end. Wrap ends of hair around the donut until you end up back at the elastic. Secure with bobby pins.
22. Hair Bow Updo. This is the exact same technique as the half-up hair bow, but you use all of your hair to create a big bow on the top of your crown.
Side-Swept Looks
23. Clip a Side Swoop. This old Hollywood glam look is attracting a lot of recent attention in the bob and lob crowd, but has extra Jessica Rabbit va-va-va-voom when worn with long curls or waves.
Before curling your hair as desired, we suggest
the volume system form MONAT
. Part your hair drastically at one side, swooping the smaller side all the way back to the crown of your head and securing with a long curved barrette.
24. Swing a Messy Side Bun with a Sparkly Headband. This sweetheart look screams modern-day Cinderella.
Part hair loosely, place a sparkly headband over the part, and place a messy bun by the ear on the long side of the part. You can choose to pull out and curl strategic pieces or leave them intact.
25. Low-side Pony.
This look is simple and classic. As with the side bun, part hair liberally to one side and secure hair with an elastic near the ear on the long side of the part. For
a tousled look
, pull out strategic strands as desired.
As we're demonstrated, easy romantic hairstyles for long hair don't have to be overly complicated or time-consuming. We recommend running through the list and jotting down the easiest ones to try first. You can always come back for more once you've mastered the simpler ones. Now, go forth and get romantic with your hair!