Clarifying Shampoo Is Back for February's Only For You
FREE for all qualifying Flexship orders, this month's OFY will get your hair squeaky clean! Our 4 oz. Clarifying Shampoo gently purifies and freshens by removing environmental residues and other stubborn build-up. Our VIPs tell us our OFY program is one of their favorite things about MONAT so take advantage of it and add some more VIPs to your team!
Listen to This Great Incentive for Joining the MONAT Motor Club
When MONAT launched its MONAT Motor Club, our goal was to have 500 white Cadillacs on road by the end of Q1 2018. We are well on our way with two more months to reach our goal and are making it easier for you to join. First time MONAT Motor Club qualifiers will receive an additional $1000 USD/$1200 CAD towards their down payment if they qualify in February or March. That is a total of $2500 USD/$3000 CAD towards your down payment. Who will be getting their MONAT Cadillac this month?
MONAT Is Doubling the MMP Bonus & Also Giving the Sponsor a Bonus. Act Now! It's Only February!
If you enrolled in January and achieve MMP in February, we will double your MMP Bonus from $100 USD/$150 CAD to $200 USD/$300 CAD! We will also provide a $100 USD/$150 CAD bonus to the sponsor of the MMP who ranks up! MPs who enroll in February have the same opportunity by ranking up to MMP in March and, again, their sponsor will receive the bonus as well. Our focus is to always work together and we just gave one more amazing reason to do this! It's the MONAT Way!
Passport Bahamas
The latest installment of Passport is upon us. This time to the ultra luxurious BAHA MAR! Located in Nassau, Bahamas, this is one trip you won't want to miss. Created to be a beautiful, inviting destination, Baha Mar's magnificence is perfectly envisioned within the paradise that surrounds it. Experience BAHA MAR this November.

As if the unveiling of Passport Bahamas wasn't enough, in true MONAT fashion….there's more! For the month of February, we will be doubling the points for Passport Bahamas ! We want everybody to join us at the beautiful BAHA MAR! Join us!
Enroll a Market Partner now through 2/28 and get rewarded!
Starting Sunday, enroll a new MP with a Product Pack and both you and your new MP will receive a FREE Volume System! This offer is valid from February 11 through February 28, 2018. Build your team with this awesome opportunity!
MONAT Launches in the UK!
It's official! #MONATUK is here! Yes, that is correct, we have opened more doors, this time in the United Kingdom. The opportunities are endless and now is the time to start building your team across the pond and even become a part of the UK Founders Club! For all the exciting details, click on the links below!
MONAT Unveils Colour Enhance!
The latest and greatest is coming soon from MONAT. Introducing our NEW Colour Enhance. Our professional quality COLOUR ENHANCE products are formulated with botanical antioxidants and MONAT's most exclusive plant-derived color enhancing ingredient blends for brilliant results that enrich colour and heighten shine. That's MONAT. That's Modern Nature.
Enhances silver and platinum hues. Specially formulated with a complex blend of botanical actives and natural phytopigments derived from Lavender, Centaurea, Mallow and Violet Flowers to boost lustrous platinum and silver highlights and beautifully enhance silver and platinum hues.
Specially formulated with a complex blend of botanical actives and natural phytopigments derived from Chamomile, Crocus and organic Marigold (Calendula) Flowers to boost lustrous golden highlights and beautifully enhance blonde and golden hues.
Specially formulated with a complex blend of botanical actives and natural phytopigments derived from Horse Chestnut Seeds, Indian Walnut Leaves and exotic Peruvian Rhatany Root to boost lustrous brown highlights and beautifully enhance brown and honey hues.
MONATions Is Coming!
As a MONAT Market Partner, you are riding the biggest wave of MOMENTUM ever felt in the haircare industry. MONAT is breaking records, setting new benchmarks, and positively affecting millions of lives to make dreams come true. Together we are setting the gold standard for premier haircare. Our MOMENTUM is unstoppable and together we will celebrate that MOMENTUM at our annual conference, MONATions United 2018, to be held this year in Washington, D.C., September 6-8. Register NOW through February 28th and get our early-bird pricing of $149!
Smoothing Shampoo Now Permanent Part of MONAT Product Line!
MONAT just gave its Smoothing Conditioner a partner—Smoothing Shampoo! This daily shampoo gently cleanses and nourishes while smoothing and softening the hair cuticle. The result? Less frizz! Formulated with REJUVENIQE™ and infused with an exclusive blend of amino acids for total frizz control, Smoothing Shampoo takes charge to reduce dry static fly-aways, de-frizzes and resists humidity for a smoother, sleeker, silkier look.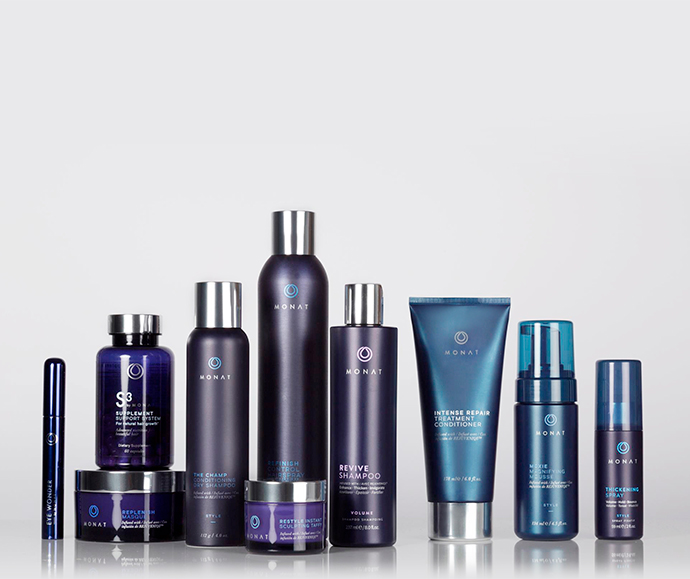 Try Mix & Max ordering and snag the products that suit your needs! We're super flexible; VIP on your own schedule by pushing order dates to the months that work for YOU. As long as you maintain one qualified order of $84 (USD) / $110 (CAD) or more every other month, you'll continue to receive all of the VIP perks you're used to.
Visit MONAT Miami!
Stop by and see who supports your success and where all the "back end" work happens. You can take tour of the MONAT Miami home office on Tuesdays and Thursdays, between 10 am and 3 pm Eastern. You also can tour B&R, our manufacturing, fulfillment and distribution center – that's where the magic really happens! It takes approximately one month to schedule a tour so plan ahead! Our arms are open!