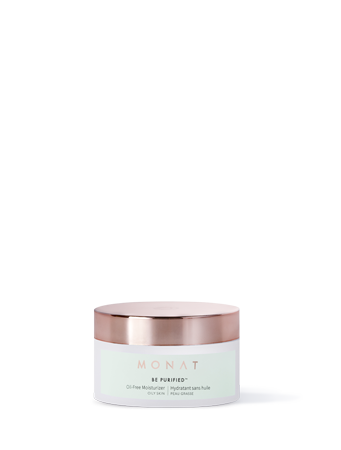 BE PURIFIED™
Oil-Free
Moisturizer
A lightweight, oil-free moisturizer designed to help minimize visible shine while absorbing excess sebum, giving skin a healthy appearance.
VIP Customer Price
$65.00 (USD)
Retail Price
$76.00 (USD)
VIP Customer Price
$61.00 (USD)
Retail Price
$72.00 (USD)
ON SALE Sunday, September 15 11a.m. EDT
To learn more about BE PURIFIED™ Oil-Free Moisturizer, please contact your MONAT Market Partner.
Made specifically for oily skin types, our oil-free formula gently absorbs and reduces excess oil and shine while keeping skin hydrated all day.
Infused with French white clay, green tea, rosemary, aloe vera, and mineral-rich clays, this oil-free moisturizer naturally mattifies, purifies, hydrates, and replenishes the skin.
/ Use the included spatula to remove product from jar.
/ Evenly apply to your fingertips.
/ Massage onto your face, neck, and décolletage.
/ Allow product to fully absorb before applying SPF and makeup.
MONAT BE PURIFIED™
Oil-Free Moisturizer
0:30
French White Clay
A natural mattifying agent that purifies, absorbs oil, and reduces shine.
Botanical Extracts
Green tea, rosemary, and aloe vera leaf are natural, purifying, and smoothing.
Saw Palmetto Extract
Helps purify the skin.
Hyaluronic Acid
Moisture magnet