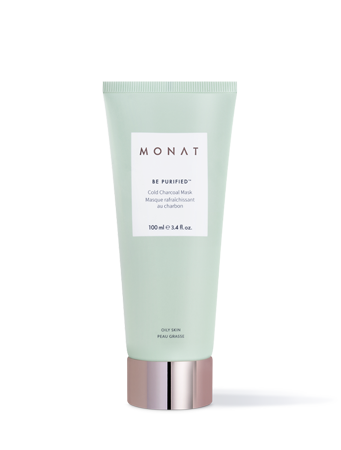 BE PURIFIED™
Cold Charcoal
Mask
A unique cooling blend of mineral-rich clays and purifying charcoal to help refine pores and provide deep cleansing.
VIP Customer Price
$37.00 (USD)
Retail Price
$44.00 (USD)
VIP Customer Price
$36.00 (USD)
Retail Price
$42.00 (USD)
ON SALE Sunday, September 15 11a.m. EDT
To learn more about BE PURIFIED™ Cold Charcoal Mask, please contact your MONAT Market Partner.
Made specifically for oily skin types, our oil-free formula gently absorbs excess oil while providing an immediate cooling and refreshing skincare experience.
Infused with mineral-rich clays, charcoal, and salicylic acid, this purifying mask unclogs pores and has an instant matte effect, reducing shine for up to eight hours.
/ Apply a small amount onto your fingertips.
/ Apply evenly to clean, dry skin.
/ Allow mask to dry for 10–15 minutes.
/ Rinse off with warm water and gently pat dry.
/ Follow with your MONAT Skincare routine.
BE PURIFIED™
Cold Charcoal Mask
0:36