Spring Is Officially Here! Are You Ready?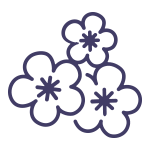 March 20th was the vernal equinox, what we call spring. Flowers are peeking their buds out, birds' chirps are wafting through the air and there's a feeling of newness around the corner. Are you ready? Is your closet ready?
Each season fashion trends change, even slightly, and this spring we're going to see a lot of stripes, waist-cinchers, khaki clothing and sleeve slits. If you take part in the slit sleeve trend, our advice is to up your bangle and bracelet game to add flair to your already cool ensemble. The khaki trench coat will be a staple to some. Slouchy fabrics, oversized buckles and extended silhouettes will take center stage.
In addition, lashes and brows are bigger than ever on the runway… and in real life! Who wouldn't want long, full, luscious lashes that show off your eyes? And strong brows really frame your eyes and can literally change the look of your entire face.
What? You don't have full lashes and brows? Well, now you can get them…with the new Eye Wonder Lash & Brow Enhancing Serum by MONAT.

MONAT's Eye Wonder is a high-performance serum with proprietary and unique ingredients that help lashes and brows appear fuller, longer, healthier and rich with shine.* It contains Capixyl™, which helps to increase the strength and condition of lashes and brows. It also contain Fision KeraVeg 18, a vegetable-based alternative to animal keratin which strengthens and improves the luster of lashes and brows. Eye Wonder's safe formula also protects from brittleness and eyelash breakage.
Between this season's fresh new trends and luxurious lashes and brows, you'll be ready to greet spring gorgeous and wide-eyed!
Prepare to be EYEdolized!
*As reported by focus group participants who applied MONAT's Eye Wonder serum twice a day for 28 consecutive days. Results may vary.