Give more than just a gift when you give a MONAT Holiday Gift Set!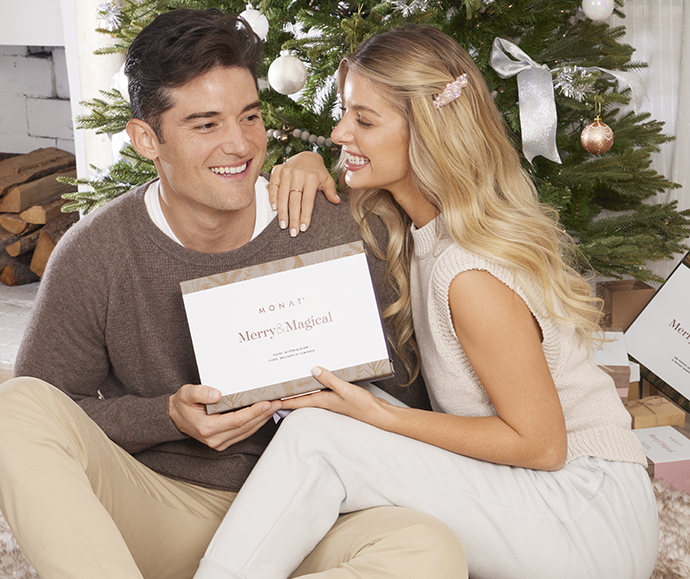 Merry & Magical
The season of giving is here, and to help you ease the stress of holiday shopping and narrow your search for the perfect gifts, we've created eight holiday gift sets that include new and best-selling MONAT Haircare, Skincare, and Wellness products with limited-edition accessories that beautifully complement each set and enhance any home-spa experience!
Spoil yourself and every person on your list this year with gifts you'll want to give and receive! It's a Merry & Magical time at MONAT, and we're helping you make the season even brighter with our specially curated holiday gift sets.
Our gorgeously packaged and ready-to-gift, limited-edition sets have everything you need to magically fulfill everyone's pampering dreams.
Shop our Merry & Magical Holiday Gift Sets and give the gift of luxurious relaxation this season!
Gifts under $50!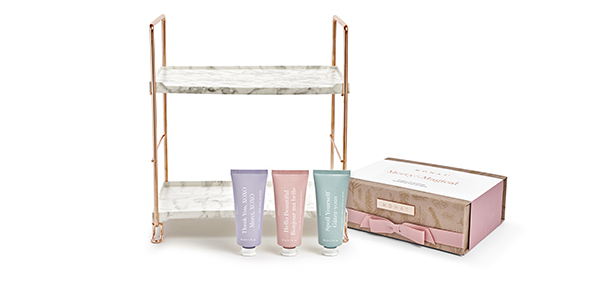 Handful of Happiness
Keep winter hands delightfully supple and soothed with our trio of limited-edition hand creams in fragrances of Lait De Coco, Gardenia, and Matcha. Organize your creams and more with our Neat & Pretty Vanity Tray. Great for those with dry hands who stay on the move!
Fabulous & Festive Haircare Gifts!

Kushion Komfort Hair & Scalp Care
For the person that wants to relax and have great hair, this set includes our NEW limited-edition Skin Kushion™ by MONAT haircare duo featuring hemp-derived CBD plus adaptogens. And it's perfectly paired with our Hair & Scalp Deluxe accessories for the ideal soothing and styling gift set.

Gloss, Glitter & Glow
Get camera-ready with this sensational trio featuring NEW limited-edition MONAT Hair Perfume and MONAT STUDIO ONE™ CC Cream! The Crystal Chic Hair Accessory Set offers a variety of festive finishing touches for all your holiday looks or any fancy lady on your list.

Glitz & Glam Holiday Hair
Your choice of five travel-size haircare favorites—paired with our Starry Night Gold & Pearls accessories—makes this the ultimate "glam-on-the-go" gift set for the chic mover and shaker.

Holiday Hair Anywhere
Guarantee glamorous travel-ready styling options for the jetsetter in your life when you choose five haircare classics, complemented by our dazzling Styled So Sweet accessories set.
Skincare Gifts for the Glow-getter!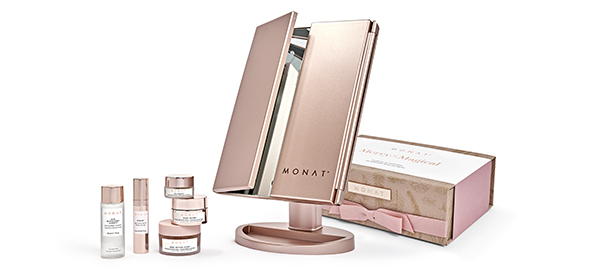 Magic Minis & Mirror
Take that glow on the road! Choose five perfectly packable MONAT Skincare minis, plus get our Mirror Magic high-performance LED mirror for friends and family who want to achieve the perfect holiday glow up!
Gifts for Him!

The Perfect Gentleman
His superior style will be the talk of the town, thanks to this flawless foursome of facial must-haves including NEW MONAT FOR MEN™ Essential Shaving Cream. Plus, our Nice & Precise Ear and Nose Hair Trimmer guarantees he'll be sharp and sophisticated all season long.
Gifts to Relax & Unwind

Essential Oils Trio & Diffuser
Three specially curated, limited-edition oil blends provide the perfect enhancement to any mood: boosting Bright, focusing Presence, and calming Grounding. Includes our limited-edition Luxe Aroma Diffuser for a complete aromatherapy experience. It's the ideal set for all your zen friends!