How to Get Curly Hair Easily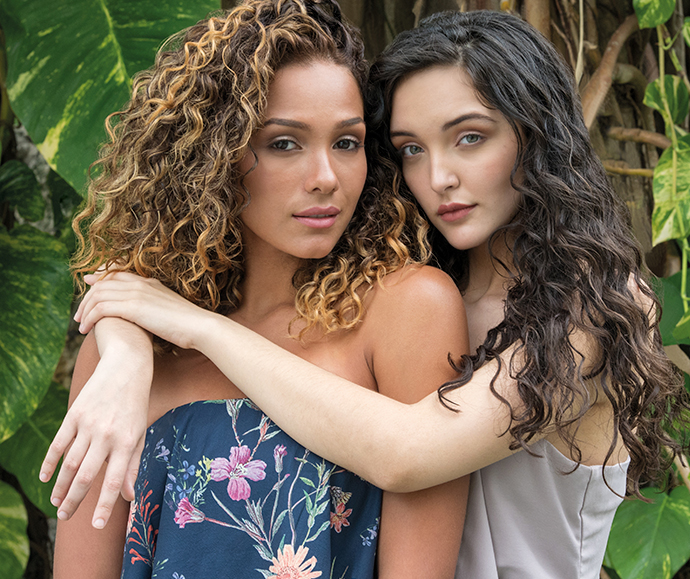 Enjoy Beautiful Curls—Without the Frizz.
Foam curlers. Curling irons. Perms.
These are just a few ways to get curly hair.
Getting soft, gorgeous curls means sleeping with uncomfortable curlers in your hair, endless minutes with the curling iron, or getting an expensive perm—right?
Wrong.
Getting long, soft, beautiful curls and ringlets without the frizz is easier than ever.
Tips for Keeping Curly Hair Healthy
Getting soft and curly hair is a look most women strive for. However, in many cases, getting curly hair also means dealing with uncontrollable frizz.
We would be lying if we said that curly hair is easy to achieve and manage. But that doesn't mean getting the curls of your dreams is impossible… The truth is curly hair can easily damage, especially when brushing or combing too aggressively. This is because the curls are already under a great deal of stress because of their weight and shape, depending on the length of your hair, of course. As a result, curly hair can become tangled, damaged, split and frizzy over time.
The main ingredient for healthy, curly hair is proper maintenance. Here are some super easy tips on how to keep curls looking and feeling healthy.
1. Use a Wide-Tooth Comb
– As we mentioned above, half the battle of getting and maintaining curls has a lot to do with what you use to brush your hair, and how you brush it. Although you might feel inclined to aggressively tear through your hair with any ordinary brush out of frustration, this does more harm than good.
Using a wide-toothed comb is better for many reasons. A wide-toothed comb allows you to brush through hair, especially when it's wet, and detangle hair while still maintaining those beautiful curls.
2. Tame the Frizz
– Frizz happens from time to time with virtually any hair type, but even more so with curly hair. You can tame frizz by using a
curly hair care system
. By gaining control of frizz, you can then bring out the curls that you love and can't wait to show off.
Using a styling cream is better than using any old off-the-shelf "anti-frizz product". Styling cream for curly hair will help reduce and tame frizz. The right
styling cream for curly hair
contains a rich combination of polysaccharides.
Polysaccharides are extracted from Chia Seeds and Linseeds, which help protect the hair shaft. This helps to form and shape defined curls, provides protection against heat and humidity, and tames frizz.
3. Get Regular Trims
– Different hair types require more or less frequent trips to the salon. For example, curly or coarse hair requires regular trims. This is because these hair types are the most delicate, and are more susceptible to damage. Regular trims will help avoid split ends, which also helps avoid further breakage and damage. The healthier your curls, the less frizz, and the more your curls will stand out.
4. Use a Trusty Shampoo and Conditioner for Curly Hair
– Yes—The shampoo and conditioner you use to help you maintain curly hair does matter! Most shampoo and conditioner products contain different ingredients for different hair types.
For example,
a shampoo and conditioner for curly hair
typically contains natural-based ingredients, such as essential oils, healthy fats, antioxidants and nutrients, all of which are important for nourishing and moisturizing curly hair.
Furthermore, because curly hair dries out and damages fairly easily, it's important to use a conditioner in addition to shampoo every time you wash your hair. Leave-in conditioners for curly hair also work great as these help nourish and moisturize hair, from root to curly tip.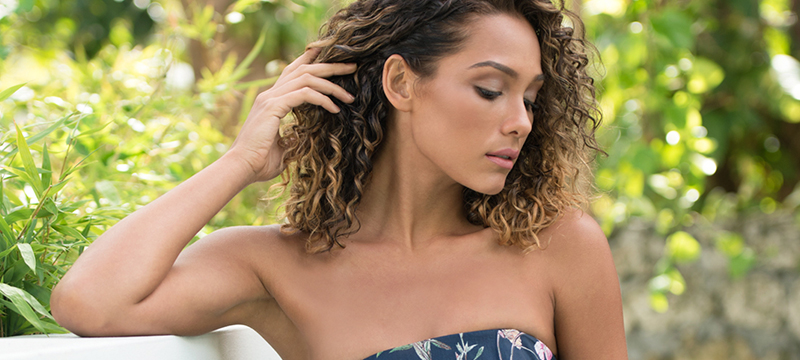 How to Get Curly Hair
Now that you have a better understanding of how to properly care for curly hair, here are some tips on how to get curly hair naturally, without using heat and dealing with frizz.
1. Adopt the Twist and Press Method.
The "twist and press" method is one of the easiest and most effective methods for getting naturally curly hair. Not only does this method prevent breakage and damage, it will also help you hair dry naturally into nice curls and waves that last all day.
Step 1 – Twist and Press. When stepping out of the shower and drying hair, rather than vigorously or aggressively rub a towel through your hair, carefully twist hair in the towel and press for a couple of seconds. Avoid twisting too tightly!
Step 2 – Use a Wide-Toothed Comb. Then, by using a wide-toothed comb, gently comb through damp hair. A wide-toothed comb will preserve waves and curls rather than brushing them out.

If you hit a snarl, hold the hair with one hand and carefully and slowly brush out the snarl with the other. Do not pull! Not only will this hurt, it will also damage hair and cause breakage and split ends.

Step 3 – Style. Finally, use a finishing spray or a curling creme to keep waves and curls intact throughout the day. Style as desired.
First, wash your hair (using a safe, moisture-rich product like the ones we suggested above).Then, apply a styling cream, like Monat's Restyle Instant Sculpting Taffy.
Finally, twist your hair into 2-3 buns at the nape of your neck, pin, and then wait it out! In a few hours, you'll achieve a shiny, natural wave look—no heat needed.
2. Better with a Braid.
Life is just better in braids—and they can also do wonders for getting curly hair!
Step 1 – Air Dry. The best way to get waves and curls that last all day is to braid hair while it is still damp. After using a shampoo and conditioner for curly hair, and carefully towel-drying hair, allow it to air dry.
Step 2 – Braid. Simply braid your hair in the way you see fit. You can opt for a French braid, a mermaid braid, or a traditional ponytail braid. Each type of braid will likely give you different results, depending on your hair type and length. Try different braids to see which one you like best, and which one gives you the most waves and curls.
Step 3 – Style. In order to keep curls and waves intact, use a finishing spray or a curling creme.
3. Don't Ditch the Diffuser.
If you don't like the air dry method, or if you want immediate curly results, then you can opt to use a hair dryer with a diffuser.
Step 1 – Wash Hair. After washing hair, fire up your hair dryer, but don't forget the diffuser! Using a diffuser will help you achieve the desired shape and style.
Step 2 – Use a Round Brush. By using a round brush, simply wrap sections of hair around the brush, and carefully apply the diffuser directly to hair. Carefully drag the diffuser along the section of hair to the ends.
Twist the brush before releasing hair, unraveling the section of hair into a large banana curl.You can also play with the warm and cool temperatures on your hair dryer to see which give you desired results.
Step 3 – Leave-in Conditioner. If you prefer to use heat to achieve your desired style and curls, then be sure to use a leave-in conditioner from time to time to avoid drying out hair, and keeping curly hair healthy.
The Cure for Curly Hair
Dealing with hair types is a catch-22. Women with fine, straight hair would die for waves and curls. Women with naturally curly hair would kill for a day without any frizz or frustration.
You can have the best of both worlds simply by following the above tips on proper hair care for curly hair, controlling frizz, and preventing damage. By understanding these tips, you can finally achieve big, beautiful curls that you will love.