Many people go au naturel with their hair in the summer. They give up on perfect, sleek hairdos and turn to a looser, slightly-but-purposely messy look. That's good news because shaggy hair is back! And trendy, slightly messy looks are so easy to do.

1— Second Day Hair, Don't Care! Add texture applying The Champ Conditioning Dry Shampoo on the roots and Moxie Magnifying Mousse on the rest of your hair, then flip up the ends with a flat iron.
2— The Braded Bunch. Braids are an easy way to make your hair look done. No matter where you put them on your hair, they give a finished look. But let the flyaways have their day. They keep the style looking effortless and not too "done."
3— Back with a Bang. Try side swept bangs, which give you versatility. You can push them off to the side or pin them off your face. Prep hair with a styling sculptor like Restyle Instant Sculpting Taffy for hold and flexibility, point the hairdryer nozzle down and away from your face and then mist the fringe with hairspray, like Refinish Control Hairspray to keep the bangs in place.
4— Groovy Waves. Use Tousled Texturizing Mist to achieve a desirable wavy beach look. Spray it on and scrunch your hair while lightly drying with a diffuser.
Are you more into shiny and smooth hair in the summer? MONAT has you covered!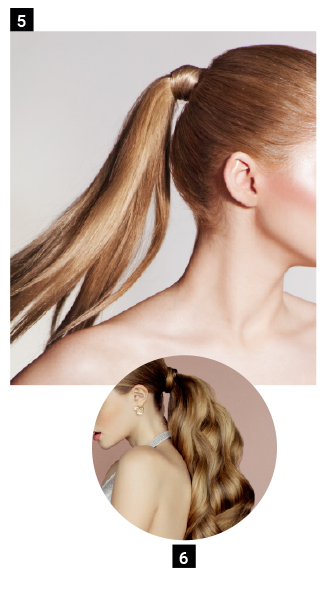 5— High-High. Try the high ponytail to keep your hair off your neck. Spray Tousled Texturizing Mist at the roots and then brush hair up toward the top back of your crown. Secure the ponytail with two elastics—one on top of the other—to create volume and height. Flat iron the ponytail (remember, at a low temperature!), hide the elastic with a leather ribbon and finish with a mist of hair spray.
Low-Low. You also can go with a low ponytail. Slick back wayward hair with Restyle Instant Sculpting Taffy, gathering the hair at the nape of the neck with two elastics for extra support. Divide the ponytail into three sections and wind each around a curling iron. Finish the look off by combing your fingers through the ringlets for a casual, slightly off-beat look.
LOVE YOUR HAIR
Regardless of the look you want, your hair needs some serious TLC in the summer because the season's heat, humidity and dry wind can make hair frizzy, dehydrated and weathered.
Apply conditioners and oils starting midway on your hair down to the ends to prevent your roots from getting oily.
Go for a deep treatment, such as REJUVABEADS™, to bring your hair back to health.
Wear scarves, hats or funky hair accessories to provide extra UV protection, help your scalp retain moisture and protect your hair from sun, dust and pollution.
Embrace and celebrate the natural texture of your hair!