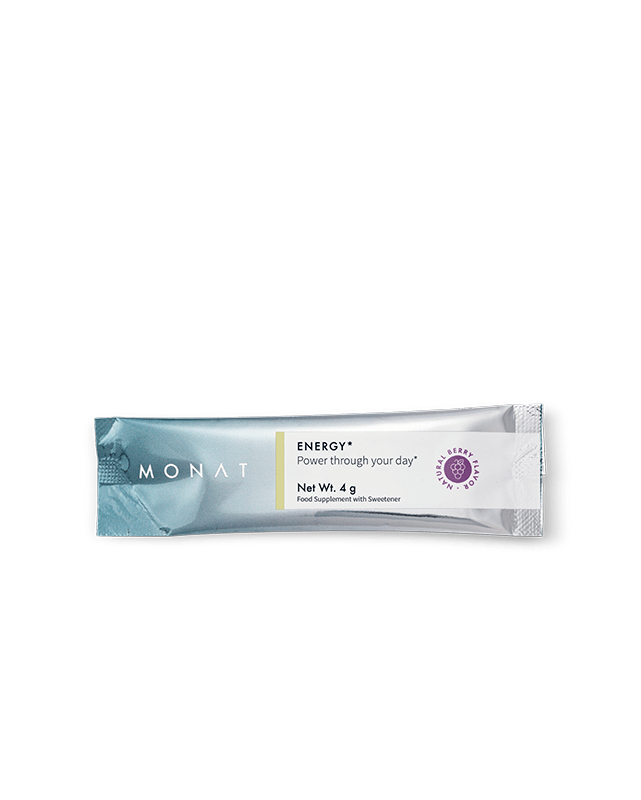 NEW
MONAT
Energy™
A delicious drink mix that helps you power through the day, in an easy-open stick pack.
30 servings
To learn more about MONAT Energy™, please contact your MONAT Market Partner.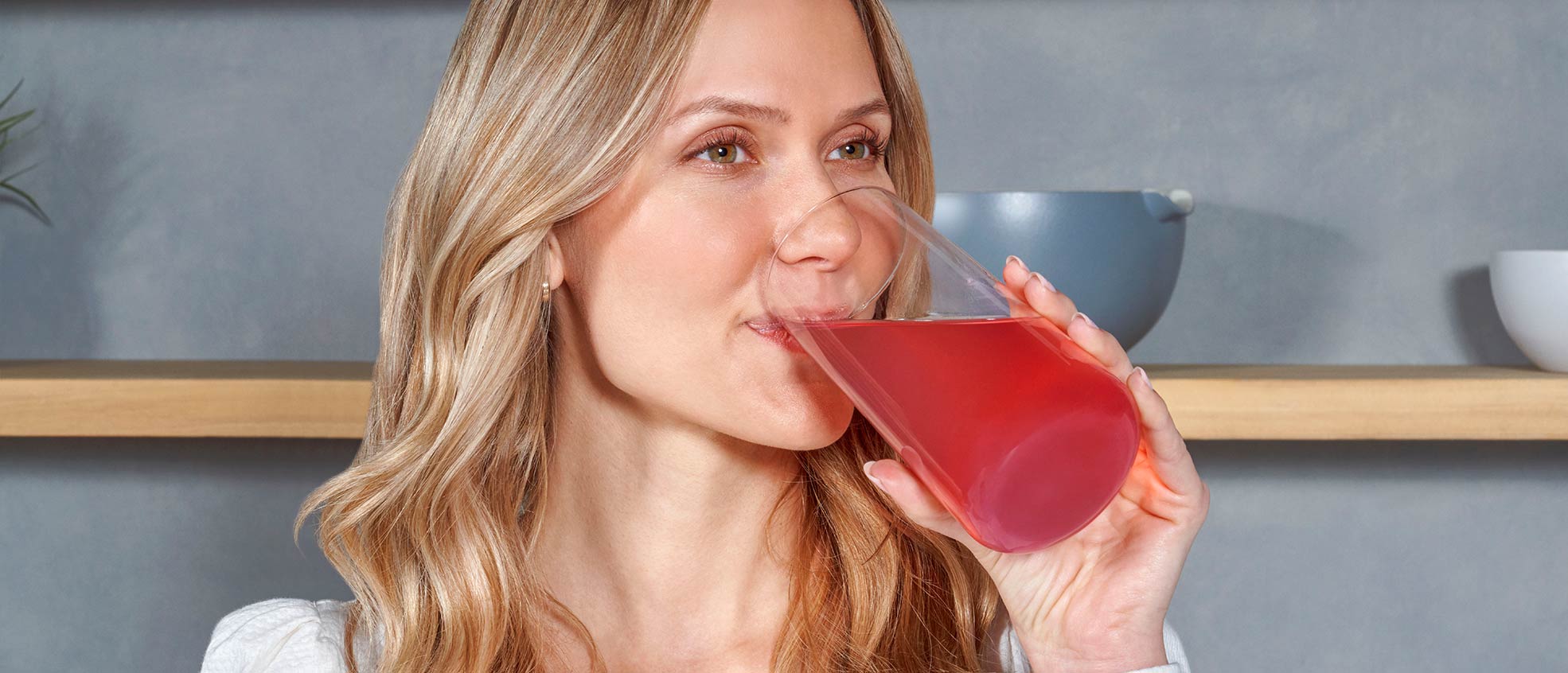 BENEFITS
MONAT Energy™ delivers a thoughtfully curated blend of specially selected vitamins and minerals enriched with caffeine.
Features
/ Only 111.5mg of caffeine (not recommended for children or pregnant women)
/ Vitamin B12 and Vitamin B6 which contribute to the reduction of tiredness and fatigue
/ Magnesium which contributes to normal energy-yielding metabolism and normal psychological function
/ Pantothenic Acid which contributes to normal mental performance
/ Delicious sugar-free natural berry flavour
/ Convenient, easy-open stick packs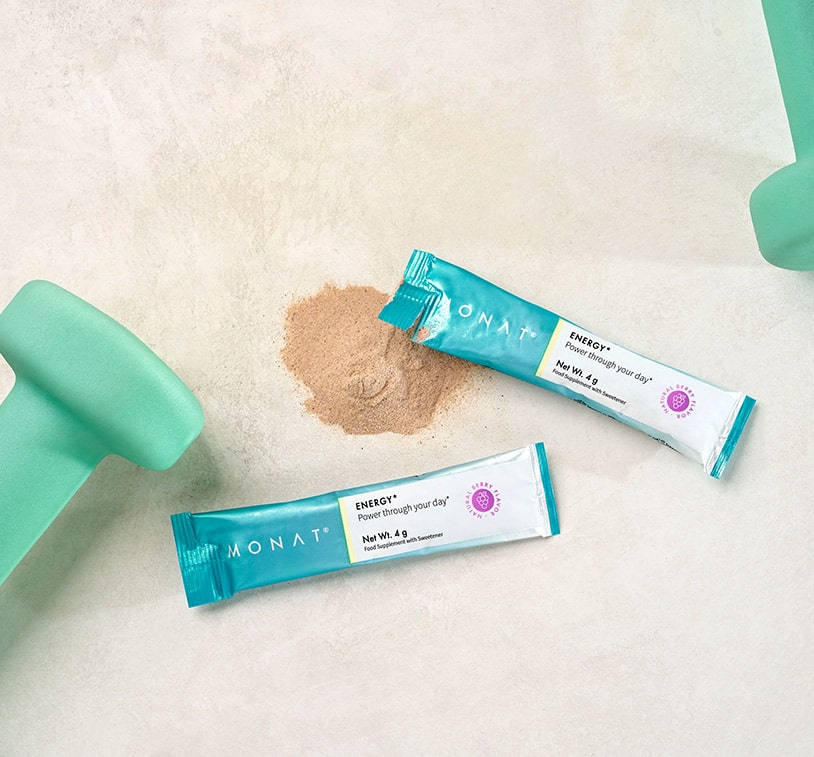 Our unique formula helps you power through the day with just one stick pack.*
Contains no artificial flavours, colours or added sugar - just a delicious blend of juicy berry flavours.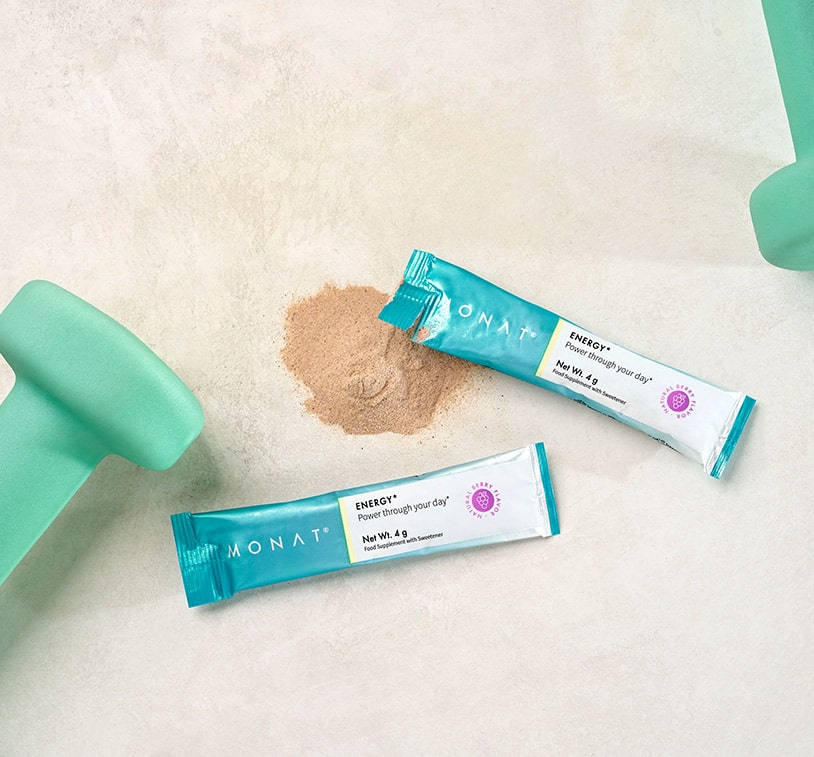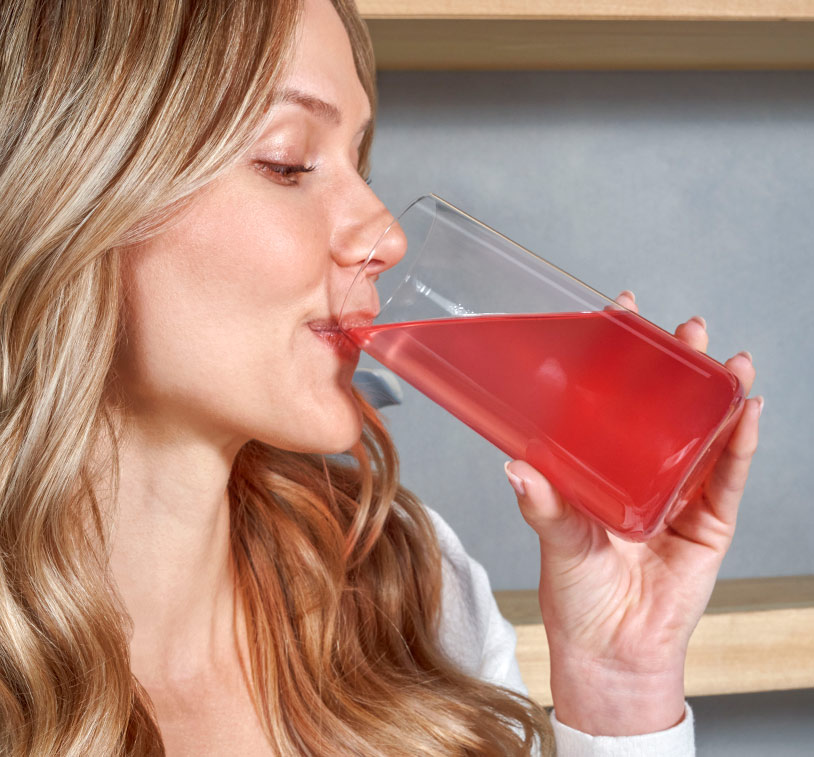 Directions
Recommended Daily Intake
/ Dilute 1 stick pack (4g powder) in approximately 250 ml of water.
NOTICE: CONTAINS CAFFEINE (111.5 MG PER DAILY INTAKE). NOT RECOMMENDED FOR CHILDREN OR PREGNANT WOMEN.

*FOOD SUPPLEMENTS ARE NOT INTENDED AS A SUBSTITUTE FOR A BALANCED AND VARIED DIET AND HEALTHY LIFESTYLE. THE RECOMMENDED DAILY INTAKE SHOULD NOT BE EXCEEDED. KEEP OUT OF REACH OF YOUNG CHILDREN!
KEY INGREDIENTS
×
INGREDIENTS:
Nutrients and other substances
per daily serving (1 stick 4 g powder)
---
of which epigallocatechin gallate
Siberian ginseng root extract
Green coffee bean extract
of which chlorogenic acid
---
* Percent of nutrient reference values (NRV), according to Regulation (EU) no 1169/2011 / ** No NRV available
Contains no artificial flavours and colours. With no added sugar
Ingredients: inulin (chicory), natural flavour, acid: citric acid, L-citrulline, guarana seed extract (Paullinia cupana, contains 22 % caffeine), beetroot root powder (Beta vulgaris), magnesium oxide, anti-caking agent: silicon dioxide, green tea extract 8:1 (Camellia sinensis, contains 50 % polyphenols, 15 % epigallocatechin gallate and 7 % caffeine), caffeine (Coffea arabica), sweetener: enzymatically produced steviol gycosides from stevia, lecithins (sun flower, contains 20 % phosphatidylcholine), pyridoxine hydrochloride, siberian ginseng root extract 5:1 (Eleutherococcus senticosus, contains 0.8 % eleutherosides), ashwagandha root extract 5:1 (Withania somnifera, contains 1.5 % withano- lides), roseroot root extract 15:1 (Rhodiola rosea L., contains 3 % rosavin and 1 % salidroside), green coffee bean extract 12:1 (Coffea robusta L., contains 50 % chlorogenic acid and 2 % caffeine), calcium-D-pentothenate, methylcobalamin.
Store in a cool, dry and dark place.
---
Cautions and warnings
Food supplements are not intended as a substitute for a balanced and varied diet and healthy lifestyle. The recommended daily intake should not be exceeded. Keep out of reach of young children!
YOU MIGHT ALSO LIKE