ENJOY ALL OF THE EXTRAORDINARY ADVANTAGES OF BEING A MONAT VIP CUSTOMER FOR A ONE-TIME MEMBERSHIP FEE OF £18 (including VAT) and three Qualifying Flexship Orders.
MONAT VIPs enjoy naturally based, amazing haircare products at 15% off, free shipping and a free product with all qualified Flexship orders and more! All for just £18 and your commitment to a total of three qualifying Flexship orders.

---
Sign up as a VIP and enjoy FREE shipping on orders of £60 or more.
Choice: VIPs can order any of MONAT's Systems or stand alone products and change their order month after month. Plus, with Mix & Match, you essentially can create a System just for you!

---
When you enrol, you'll place your first order of at least £60, which counts as a Qualifying Flexship Order.
Receive: Order conveniently and have your products delivered right to your door.

Step 3: Qualifying Flexship Orders
---
By joining as a VIP Customer, you must place an initial Flexship order of £60 (a Qualifying Flexship Order) and two more Qualifying Flexship Orders after you enrol. You schedule your first Flexship during enrolment, which by default will ship approximately 30 days after you enrol. These two additional orders can be pushed out up to 60 days at a time, and there is no set deadline on when you must complete your three orders. If you do not push out your order, your order will be shipped and you will be billed.
Only For You: All of your Qualifying Flexship Orders include an exclusive Only For You product. These are not available for sale nor available any other way. Each has a retail value of £20.

Enjoy a Virtual VIP Suite to easily manage your account; 15% off Mix & Match ordering so you always receive the items you really want; and, maximise 3 & Thank You Rewards that gives you credits each time you enrol three friends who remain as VIP Customers.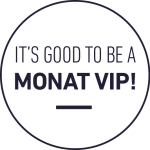 BECOME A MONAT VIP CUSTOMER TODAY TO LOCK IN ALL THE EXCLUSIVE BENEFITS AND REWARDS!