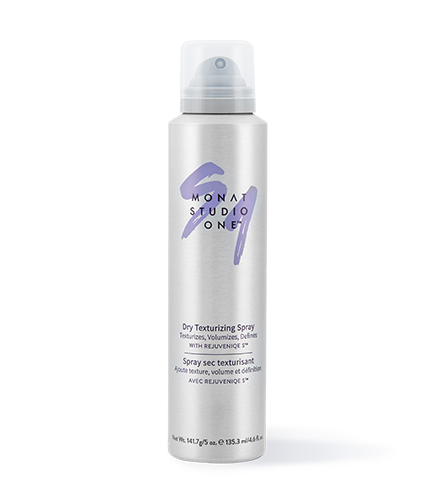 MONAT STUDIO ONE™
DRY TEXTURIZING
SPRAY
Con REJUVENIQE S™
---
Un texturizador en seco que añade volumen adicional a los peinados sueltos.
Peso neto 141.7g / 5 oz e 135.3 ml / 4.6 fl oz
Precio para Clientes VIP
$35.00 (USD)

Precio minorista
$41.00 (USD)

Para obtener más información sobre MONAT STUDIO ONE™ Dry Texturizing Spray, comunícate con tu Market Partner de MONAT.
Acabado suave, apenas perceptible, sin acumulación ni residuos
Mantiene el cuerpo y volumen para estilos texturizados duraderos.
Ofrece un aspecto despeinado y ligero para los peinados sueltos.
Agradable al tacto, al cepillado y no es pegajoso.
Seguro para cabellos teñidos.
Aprobado por dermatólogos.
Libre de crueldad animal.
Vegano.
Soft, barely there finish with no buildup or powdery residue
Holds lift and fullness for textured styles that lasts all day
Offers tousled, airy fullness for a windblown look
Touchable, brushable and non-sticky
Safe for color-treated hair
Dermatologist approved
Cruelty free
Vegan
Texturiza, da volumen y define
El secreto para conseguir un volumen increíble y una textura atractiva es MONAT Studio One™ Dry Texturizing Spray. Proporciona cuerpo y volumen fácilmente, sin importar el estilo que elijas. Los acabados suaves y agradables al tacto son duraderos, por lo que puedes rociar, peinar y ¡listo! Ya sea un recogido complejo, tu característico moño desordenado o el pelo despeinado… este es el único producto sin el que no podrás vivir. Control total del peinado con ingredientes exclusivos REJUVENIQE S™ y FIBER RESCUE™ que mantienen tu cabello fuerte, sano y brillante.
Seca al instante dejando el cabello suave.
Revitaliza el cabello en forma duradera.
No es rígido, pegajoso, no opaca ni reseca el cabello.
Agitar bien antes de usar. Sujetar a 20-30 cm (8-12 pulgadas) de distancia y rociar sobre el cabello seco para dar volumen y textura.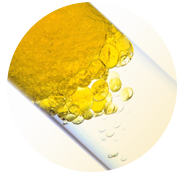 REJUVENIQE S™
El aceite superactivado combina los poderes nutritivos y revitalizantes de más de 13 aceites naturales a base de plantas del Aceite intensivo REJUVENIQE®, ricos en ácidos grasos omega, antioxidantes y nutrientes altamente compatibles con la piel y el cabello.
FIBER RESCUE™
Tecnología de lipoproteínas de origen vegetal que ha demostrado penetrar profundamente en el corteza del cabello para tratar los daños a nivel microscópico, reconstruyendo su estructura interna para rescatar cada hebra desde la raíz hasta las puntas, sustituyendo los daños por una nueva estructura y fuerza a la vez que devuelve la manejabilidad al cabello.
PROCATALINE™
Con extracto de guisante, esta combinación de alta tecnología contribuye a un cabello sano y de aspecto más joven, ayudando a protegerlo de los factores ambientales.
CRODASORB™
Un potente ingrediente que ayuda a preservar la pigmentación natural del cabello y mantiene cada mechón protegido y fuerte.
Tetrafluoropropeno, alcohol desnaturalizado, copolímero de acrilatos/octilacrilamida, alcanos de coco, octenilsuccinato de almidón de aluminio, glicerina, aminometilpropanol, aceite de semilla de Argania Spinosa, proteína de Prunus Amygdalus Dulcis (almendra dulce), extracto de Pisum Sativum (guisante), cloruro de cinamidopropiltrimonio, pantenol, aceite de semilla de Limnanthes Alba (espuma de la pradera), aceite de semilla de Crambe Abyssinica, aceite de semilla de Camellia Oleifera, aceite de semilla de Solanum Lycopersicum (tomate), aceite de cáscara de Citrus Limon (limón), aceite de semilla de Daucus Carota Sativa (zanahoria), aceite de Citrus Aurantifolia (lima), aceite de Citrus Aurantium Bergamia (bergamota), aceite de Adansonia Digitata, aceite de Mauritia Flexuosa, aceite de Cocos Nucifera (coco), extracto de flor de Gardenia Taitensis, aceite de semilla de Moringa Oleifera, aceite de fruta de Caryocar Brasiliense, aceite de semilla de Helianthus Annuus (girasol), aceite de fruta de Olea Europaea (oliva), extracto de semilla de Simmondsia Chinensis (jojoba), caprilato de coco, palmitato de sodio, fragancia, limoneno, linalol