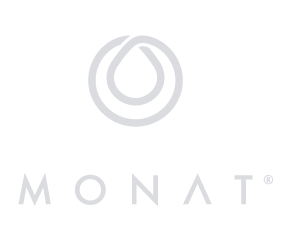 PRIVACY POLICY
MONAT Global Canada ULC,
including all its subsidiaries and affiliates, ("MONAT" "we," "our," and "us") is concerned about privacy issues and wants you to be familiar with how we collect, use, disclose, share and protect your personal information. As part of this commitment, our Privacy Policy governs our actions as they relate to the collection, use and disclosure of Personal Information. Our Privacy Policy is based upon the values set by the Canadian Standards Association's Model Code for the Protection of Personal Information and Canada's Personal Information Protection and Electronic Documents Act.
This Privacy Policy applies to all information collected through our Website , our mobile application, Facebook application, and/or any related services, sales, marketing or events (we refer to them collectively in this Privacy Policy as the "Sites").

This Privacy Policy describes to you what information we collect, how we use it and what rights you have in relation to it. If there are any terms in this Privacy Policy that you do not agree with, please discontinue use of our Sites and our Services Immediately.
PLEASE READ THIS PRIVACY POLICY CAREFULLY.
TABLE OF CONTENTS
1. THE TEN PRINCIPLES OF PIPEDA SUMMARIZED
2. PURPOSE OF COLLECTING PERSONAL INFORMATION
3. CONSENT
4. LIMITING COLLECTION
5. USE OF PERSONAL INFORMATION
6. DISCLOSURE AND TRANSFER OF PERSONAL INFORMATION
7. RETENTION OF PERSONAL INFORMATION
8. ACCURACY
9. SAFEGUARD
10. OPENNESS
11. INDIVIDUAL ACCESS
12. HOW CAN YOU CONTACT US ABOUT THIS POLICY?

1. THE TEN PRINCIPLES OF PIPEDA SUMMARIZED
The Ten Principles of The Personal Information Protection and Electronic Documents Act ("PIPEDA") that form the basis of this Privacy Policy are as follows:
I. Accountability: organizations are accountable for the personal information they collect, use, retain and disclose in the course of their commercial activities, including, but not limited to, the appointment of a Data Protection Officer;


II. Identifying Purposes: organizations are to explain the purposes for which the information is being used at the time of collection and can only be used for those purposes;


III. Consent: organizations must obtain an Individual's express or implied consent when they collect, use, or disclose the individual's personal information;


IV. Limiting Collection: the collection of personal information must be limited to only the amount and type that is reasonably necessary for the identified purposes;


V. Limiting Use, Disclosure and Retention: personal information must be used for only the identified purposes, and must not be disclosed to third parties unless the Individual consents to the alternative use or disclosure;


VI. Accuracy: organizations are required to keep personal information in active files accurate and up-to-date;


VII. Safeguards: organizations are to use physical, organizational, and technological safeguards to protect personal information from unauthorized access or disclosure.


VIII. Openness: organizations must inform their clients and train their employees about their privacy policies and procedures;


IX. Individual Access: an individual has a right to access personal information held by an organization and to challenge its accuracy if need be; and

Provide Recourse: organizations are to inform clients and employees of how to bring a request for access, or complaint, to the Data Protection Officer, and respond promptly to a request or complaint by the individual.


2. PURPOSE OF COLLECTING PERSONAL INFORMATION


We collect your first and last name, date of birth, your social security number, email address, postal address, phone number, and other similar contact data.

Our primary purpose in collecting personal information is to provide you with a secure, smooth, efficient and customized experience. We may use your Personal Information to:We collect passwords, password hints, and similar security information used for authentication of your account with Us and to provide you account access.
Process transactions and send notices about your transactions. When you make a purchase through the Site, we may collect your credit card number or other payment account number, billing address and other information related to such purchase (collectively, "Payment Information") from you, and may use such Payment Information in order to fulfil your purchase.

Provide marketing information and electronic newsletters to you regarding our products and promotions. You can unsubscribe from our marketing email list at any time by clicking on the unsubscribe link in the emails that we send or by contacting us using the details provided below. You will then be removed from the marketing email list—however, even after you opt-out from receiving marketing communications from us, you may continue to receive transactional communications to provide you details on, including but not limited to, upgrades, invoices, receipts, status of order (for VIPs). You can also opt-out by contacting us at our Customer Service support by telephone at (833) 750-4880 Monday to Friday: 8:00 a.m.–5:00 p.m. Eastern.


Permit emails to friends. We may provide functionality to permit you to send messages regarding Site-related content to a friend through the Site. Provide customer support.



Send transactional communications regarding the Site, service-related announcements, etc., which are necessary to serve you, respond to your concerns and to provide a high level of customer service that MONAT offers. You may choose to withdraw your consent to Transactional communication by contacting our Customer Service support by telephone at (833) 750-4880 Monday to Friday: 8:00 a.m.–5:00 p.m. Eastern.


Verify your identity, including during account creation and password reset processes.




Manage risk, or to detect, prevent, and/or remediate suspicious account activity or other potentially prohibited or illegal activities.




Manage and protect our information technology infrastructure.




Contact you at telephone number on file, by placing a voice call or through text (SMS) or email messaging, as authorized by our Website Terms and Conditions, Policies and Procedures, and/or the Market Partner, or VIP Agreement.




Provide targeted marketing and advertising, provide service update notices, and deliver promotional offers based on your communication preferences.




Detect, prevent, or remediate violations of our Website Terms and Conditions or Policies and Procedures, as stated in the Market Partner or VIP Agreements.




3. CONSENT


You accept this Privacy Policy when you access or use our Sites (or any of our international websites or applications) and any products, services software, tools, applications, features or functionality offered on or through our Sites. You may be accessing our Site from a computer or mobile phone device (through an iPhone or iPad application, for example) or through a MONAT mobile application, and the provisions of this Privacy Policy apply to all such mobile access and use of mobile devices. We may add additional Sites from time to time as we expand our offerings, and this Privacy Policy will govern those new Sites when added.

We also like to interact with you on third-party sites where we post content or invite your feedback, including other third-party websites, including but not limited to, Facebook, Twitter, Pinterest, Instagram, and YouTube ("Third-Party Sites"). Please read the privacy policies of those Third-Party Sites, because your posts published on those platforms will no longer be governed by this Privacy Policy, except to the extent you provide or disclose your personal information via a private messaging function. In general, this Privacy Policy covers all collection, use and disclosure of your personal information, whether through the Site or otherwise.

Because our business will continue to evolve, from time to time our policies will be reviewed and may be revised. We reserve the right to change this Privacy Policy at any time and notify you by posting an updated version of the Privacy Policy. We recommend that you review this Privacy Policy from time to time during visits to the Site and note any changes before your continued use of the Site. Your continued use of the Site after we post any revisions to this Privacy Policy constitutes your acceptance of the revised terms and conditions. It is your responsibility to periodically check this page so that you are aware of what information we collect, how we use it, and under what circumstances we might disclose it. The amended Privacy Policy will apply between us whether or not we have given you specific notice of any change. By using the Site, you agree to the terms of this Privacy Policy and our Terms of Use. If you do not agree to the terms of this Privacy Policy and our Terms of Use, please do not use the Site.




4. LIMITING COLLECTION


Personal Information collected will be limited to the purposes set out in this Privacy Policy, MONAT applications, payment, account activations, and/or other forms.


5. USE OF PERSONAL INFORMATION


We use personal information collected via Our Sites for a variety of business purposes described below. We process your personal information for these purposes in reliance on our legitimate business interests ("Business Purposes"), in order to enter into or perform a contract with you ("Contractual"), with your consent ("Consent"), and/or for compliance with our legal obligations ("Legal Reasons"). We indicate the specific processing grounds we rely on next to each purpose listed below.

We use the information we collect or receive:

To send you marketing and promotional communications for Business Purposes and/or with your Consent. We and/or Our third-party marketing partners may use the personal information you send to us for Our marketing purposes, if this is in accordance with your marketing preferences.


To send administrative information to you

for Business Purposes, Legal Reasons and/or possibly Contractual. We may use your personal information to send you product, service, and new feature information and/or information about changes to Our terms, conditions, and policies.



Fulfill and manage your orders

for Contractual reasons. We may use your information to fulfill and manage your orders, payments, returns, and exchanges made through the Sites.



To post testimonials

with your Consent. We post testimonials on our Sites that may contain personal information. Prior to posting a testimonial, we will obtain your consent to use your name and testimonial. If you wish to update, or delete your testimonial, please contact us at recognition@monatglobal.com and be sure to include your name, testimonial location, and contact information.



Deliver targeted advertising to you

for our Business Purposes and/or with your Consent. We may use your information to develop and display content and advertising (and work with third parties who do so) tailored to your interests and/or location and to measure its effectiveness. For more information, see our Cookie Policy



Administer prize draws and competitions

for our Business Purposes and/or with your Consent. We may use your information to administer prize draws and competitions when you elect to participate in competitions.



Request Feedback

Request Feedback for our Business Purposes and/or with your Consent. We may use your information to request feedback and to contact you about your use of our Sites.



To protect our Sites

for Business Purposes and/or Legal Reasons. We may use your information as part of our efforts to keep our Sites safe and secure (for example, for fraud monitoring and prevention).



To enable user-to-user communications

with your consent. We may use your information in order to enable user-to-user communications with each user's consent.



To enforce our terms, conditions and policies

for Business Purposes, Legal Reasons and/or possibly Contractual.



To respond to legal requests and prevent harm

for Legal Reasons. If we receive a subpoena or other legal request, we may need to inspect the data we hold to determine how to respond.



For other Business Purposes.

We may use your information for other Business Purposes, such as data analysis, identifying usage trends, determining the effectiveness of our promotional campaigns and to evaluate and improve Our Sites, products, services, marketing, and your experience.


6. Disclosure and Transfer of Personal Information
We only share and disclose your information in the following situations:
Compliance with Laws

. We may disclose your information where we are legally required to do so in order to comply with applicable law, governmental requests, a judicial proceeding, court order, or legal process, such as in response to a court order or a subpoena (including in response to public authorities to meet national security or law enforcement requirements).



Vital Interests and Legal Rights

. We may disclose your information where we believe it is necessary to investigate, prevent, or take action regarding potential violations of Our policies, suspected fraud, situations involving potential threats to the safety of any person and illegal activities, or as evidence in litigation in which we are involved.



Vendors, Consultants and Other Third-Party Service Providers

. We may share your data with third party vendors, service providers, contractors or agents who perform services for Us or on Our behalf and require access to such information to do that work. Examples include: payment processing, data analysis, email delivery, hosting services, customer service and marketing efforts. We may allow selected third parties to use tracking technology on the Sites, which will enable them to collect data about how you interact with the Sites over time. This information may be used to, among other things, analyze and track data, determine the popularity of certain content and better understand online activity. Unless described in this Policy, we do not share, sell, rent or trade any of your information with third parties for their promotional purposes.



Cross Border Transfers

. We transfer personal data to various jurisdictions as necessary for the purposes described above, including to jurisdictions that may not provide the same level of data protection as your home country. We provide appropriate protections for cross-border transfers as required by applicable law for international data transfers.



Business Transfers

. We may share or transfer your information in connection with, or during negotiations of, any merger, sale of company assets, financing, or acquisition of all or a portion of our business to another company.



Affiliates

. We may share your information with our affiliates, in which case we will require those affiliates to honor this Privacy Policy. Affiliates include Our parent company and any subsidiaries, joint venture partners or other companies that we control or that are under common control with Us.



Market Partners

. Market Partners or Sponsors may be able to access your account information to offer you certain products, services or promotions.



With your Consent

. We may disclose your personal information for any other purpose with your consent.



Other Users

. When you share personal information (for example, by posting comments, contributions or other content to the Sites) or otherwise interact with public areas of the Site [or App], such personal information may be viewed by all users and may be publicly distributed outside the Site in perpetuity. If you interact with other users of Our Sites and register through a social network (such as Facebook), your contacts on the social network will see your name, profile photo, and descriptions of your activity.


7. RETENTION OF PERSONAL INFORMATION
We will only keep your personal information for as long as it is necessary for the purposes set out in this Privacy Policy, unless a longer retention period is required or permitted by law (such as tax, accounting or other legal requirements). No purpose in this Privacy Policy will require us keeping your personal information for longer than 3 years for contractual purposes and 3 years for marketing activities for the period of time in which you have an account with us and 3 years past the termination of your account in order to satisfy certain tax and legal regulatory requirements.
When we have no ongoing legitimate business need to process your personal information, we will either delete or anonymize it, or, if this is not possible (for example, because your personal information has been stored in backup archives), then we will securely store your personal information and isolate it from any further processing until deletion is possible.
8. ACCURACY
MONAT endeavours to ensure that any personal information provided by the individual in his or her account is accurate, current and complete as is necessary to fulfill the purposes for which the information has been collected, used, retained and disclosed. Individuals are requested to notify MONAT of any change in personal or business information.
Information contained in inactive files is not updated.
9. SAFEGUARDS
We have implemented appropriate technical and organizational security measures designed to protect the security of any personal information we process. However, please also remember that we cannot guarantee that the internet itself is 100% secure. Although we will do Our best to protect your personal information, transmission of personal information to and from Our Sites is at your own risk. You should only access the site within a secured device and physical environment.
10. OPENNESS
MONAT endeavours to make its privacy policies and procedures known to the individual through this Privacy Policy. This document will also be available on the MONAT website:
https://monatglobal.com/ca/
11. INDIVIDUAL ACCESS
You can manage your Account Information such as your user profile and/ or email preferences, including "opting out" of marketing emails, you may contact our Customer Service support by telephone at (833) 750-4880 Monday to Friday: 8:00 a.m.–5:00 p.m. Eastern.
Our processing of your data is based upon your consent, contract performance (e.g., your purchase of products or membership sign-up/renewal), legitimate business interest (e.g., direct marketing of goods and services), or compliance with law. You have the right to object to our processing of your data or to restrict our processing of your data. In addition, if you have consented to the processing of your personal data, you have the right to withdraw your consent at any time.
It is important for you to play a role in keeping your information safe and secure. When signing up for an online account, please be sure to choose an account password that is hard for others to guess and never reveal it to anyone else. If you use a shared or public computer, never choose to have your login ID or password remembered and make sure to log out of your account every time you leave the computer.
12. HOW CAN YOU CONTACT US ABOUT THIS POLICY?
If you have questions or comments about this policy, email our Privacy Officer at
dpo@monatglobal.com
or by post to:
MONAT Global Corp
Attn: Data Protection Officer
3470 NW 82nd Avenue, Suite 910
Miami, Florida 33122
Last Revised: April 03, 2020