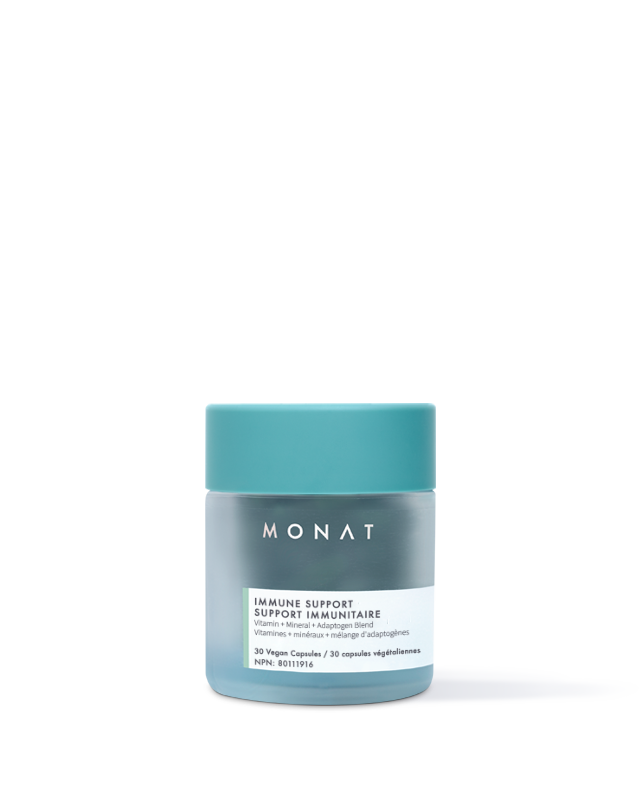 Immune
Support
Give your immune system the support it needs to maintain good health!
30 Vegan Capsules
VIP Customer Price
$61.00 (CAD)
VIP Customer Price
$65.00 (CAD)
To learn more about Immune Support, please contact your MONAT Market Partner.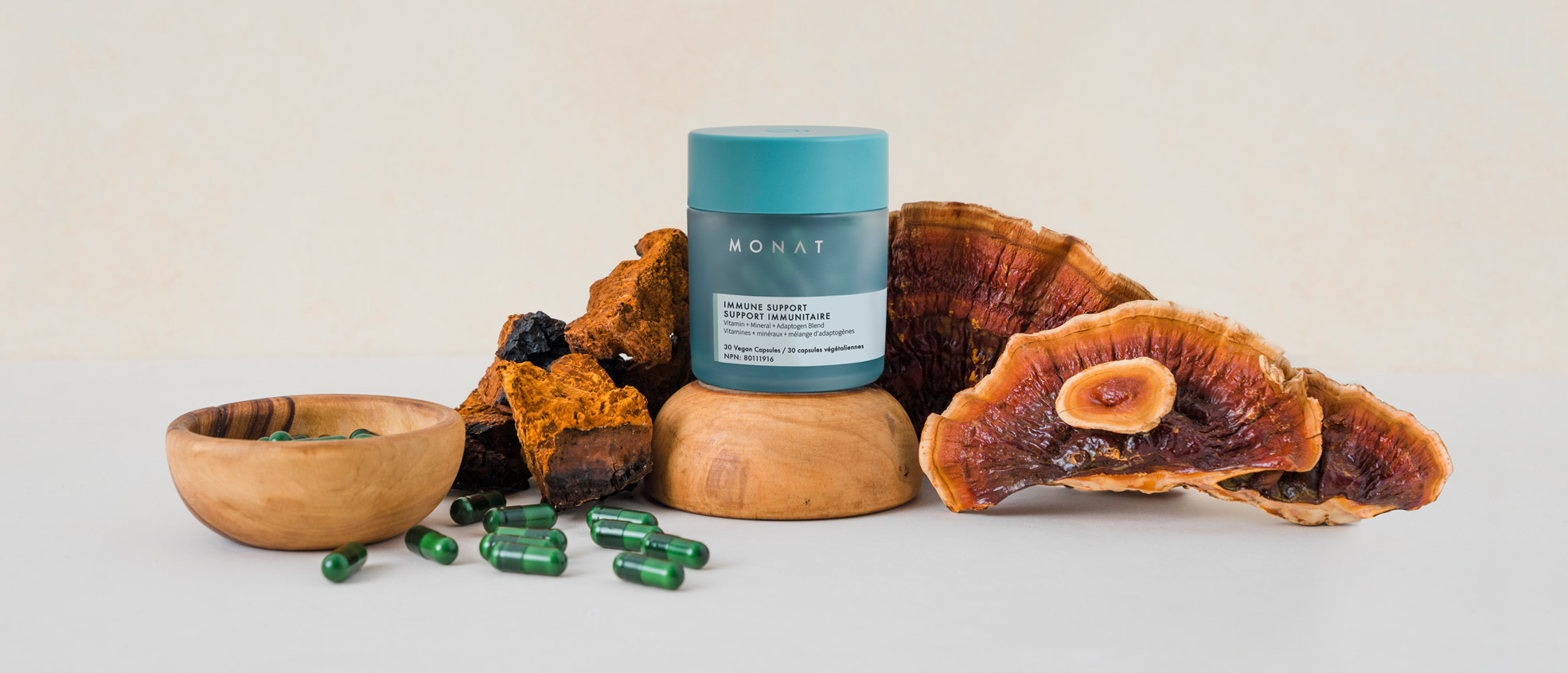 BENEFITS
Immune Support is powered by vitamins, minerals, and herbal adaptogens delivered in one, easy-to-swallow capsule to help maintain and support immune function.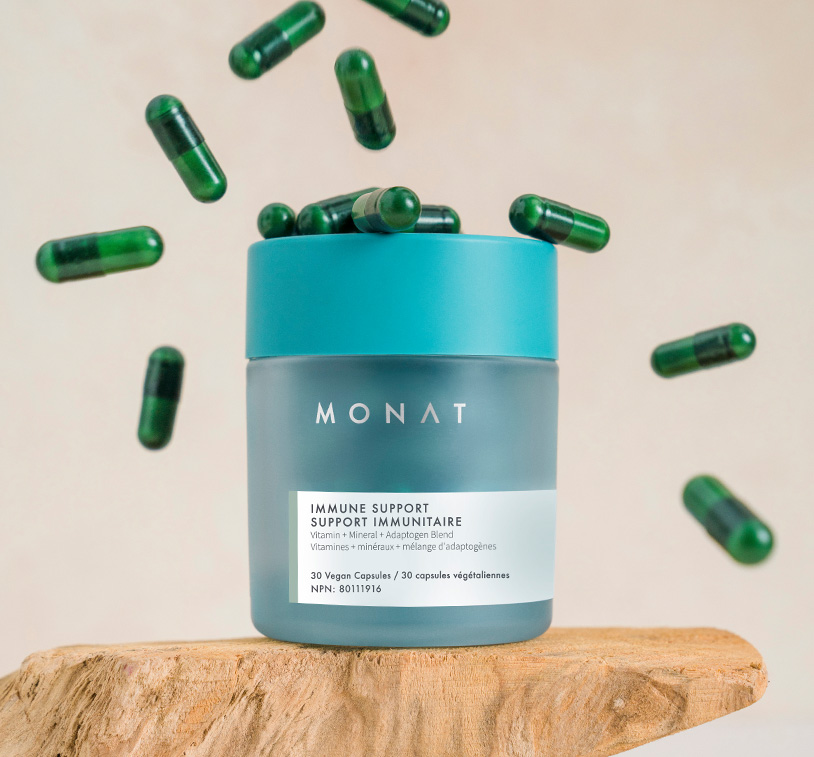 Designed to support and help nurture your body's natural defenses
/ Contains vitamins C and D and the minerals zinc, selenium and iron
/ Contains 1,000 IUs of plant-based Vitamin D2
/ Offers traditional herbal adaptogen ingredients ginseng and echinacea
/ Contains a B-vitamin blend including Thiamine, Riboflavin, Niacin, B6, Folate and B12
/ Engineered to deliver daily immune support in only one capsule
/ Vegan capsules coloured with naturally-green Chlorophyll to protect ingredient quality from sunlight
Fragrance / Peony and Pink Pepper
Texture / Lightweight Gel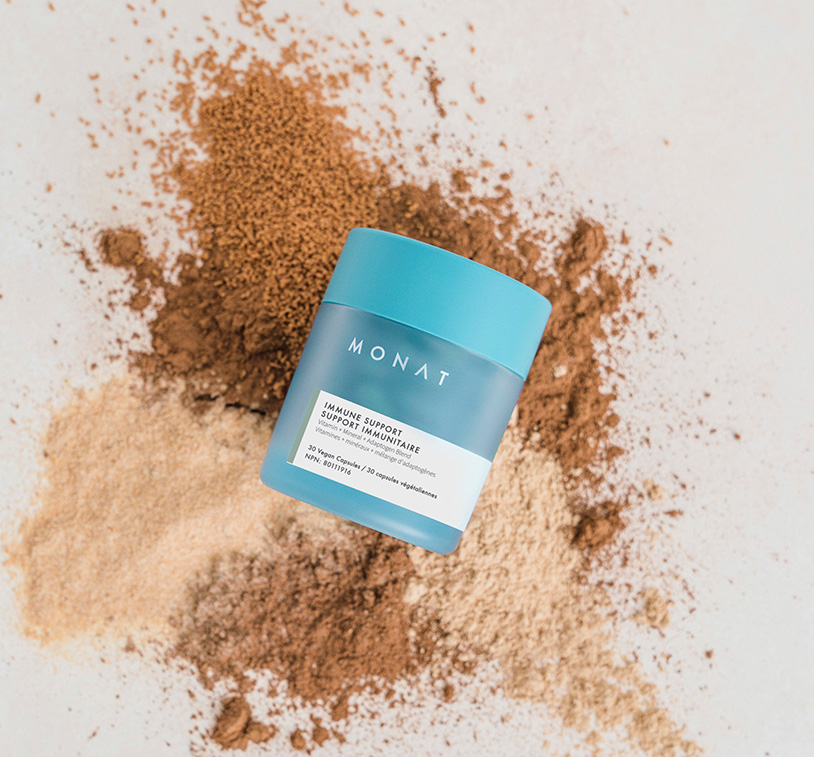 Supporting your immune system during times of stress has never been easier.
Immune Support provides efficacious amounts of zinc and vitamins C and D, scientifically studied to support your body's natural immune response.
These power players are bolstered by herbal extracts like Echinacea and Ginseng as well as adaptogens such as our custom mushroom blend.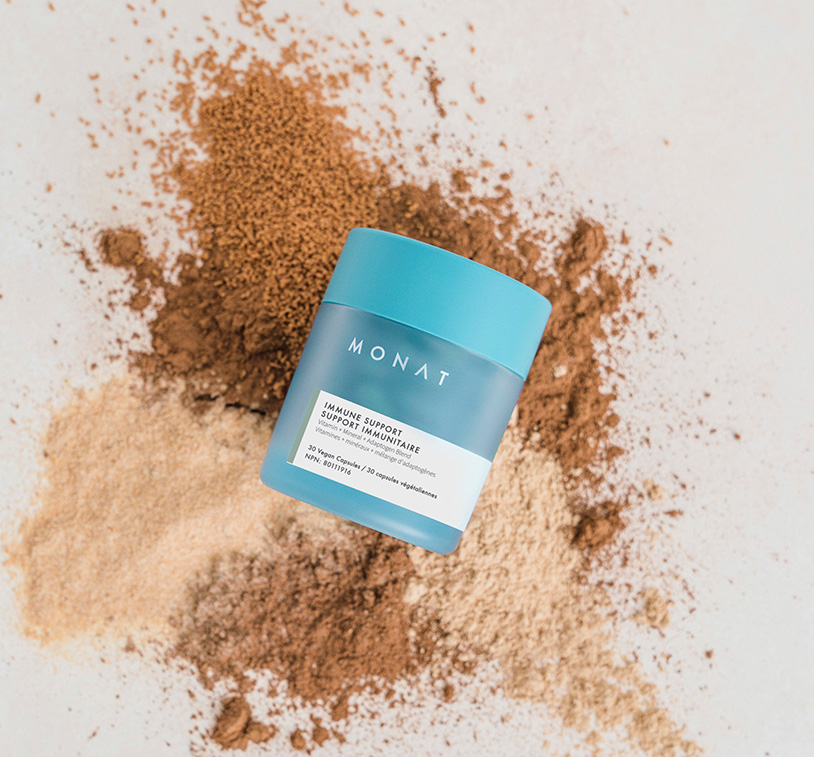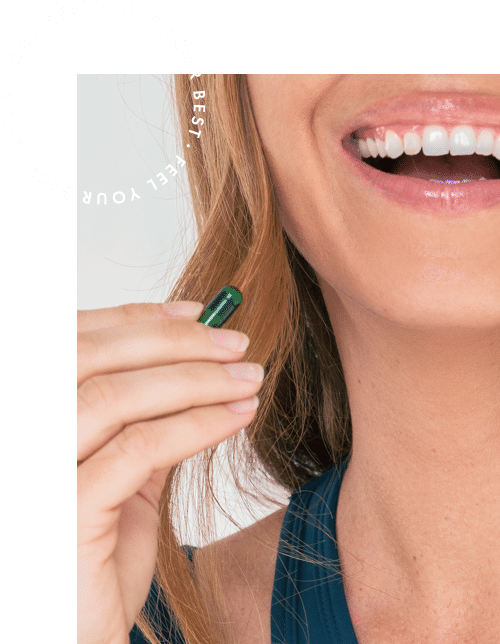 Directions
/ Take one capsule once a day.
/ Take with food to avoid digestive upset, a few hours before or after taking other medications or natural health products.
DURATION OF USE
/ Consult a healthcare practitioner for use beyond 8 weeks.
×
MEDICINAL INGREDIENTS
Each capsule contains: Vitamin C (Ascorbic acid) 120 mg, Vitamin D2 (Ergocalciferol) 25 mcg (1000 IU), Vitamin B1 (Thiamine mononitrate) 240 mcg, Vitamin B2 (Riboflavin) 260 mcg, Niacin (Nicotinic acid) 3.2 mg, Vitamin B6 (Pyridoxine hydrochloride) 340 mcg, Folate (L-5-Methyltetrahydrofolate) 80 mcg, Vitamin B12 (Cyanocobalamin) 0.48 mcg, Biotin 6 mcg, Pantothenic acid (Calcium D-pantothenate) 1 mg, Iron (Iron (II) sulphate) 3.6 mg, Zinc (Zinc oxide) 11 mg, Selenium (Selenomethionine) 55 mcg, Reishi (Ganoderma lucidum, Fruiting body) (30% Polysaccharides) (QCE 125 mg, 10:1) 12.5 mg, Chaga (Inonotus obliquus, Fruiting body) (30% Polysaccharides) (QCE 50 mg, 4:1) 12.5 mg, Lion's Mane (Hericium erinaceus - Fruiting body) 12.5 mg, Turkey Tail (Trametes versicolor, Fruiting body) (10% Polysaccharides) (QCE 100 – 312.5 mg, 8-25:1) 12.5 mg, Echinacea (Echinacea purpurea, Herb top and root) (QCE 250 mg, 10:1) 25 mg, Panax ginseng (Root) (5 % Total ginsenosides) (QCE 80 mg, 4:1) 20 mg
NON-MEDICINAL INGREDIENTS
Magnesium Stearate, Silicon Dioxide, Hypromellose, Inulin, Maltodextrin, Chlorophyll
Store in a cool dry place.
---
WARNINGS: CONSULT A HEALTH CARE PRACTITIONER PRIOR TO USE IF YOU ARE PREGNANT, BREASTFEEDING OR HAVE DIABETES. CONSULT A HEALTH CARE PRACTITIONER PRIOR TO USE IF YOU ARE TAKING ANTIDEPRESSANT MEDICATION, BLOOD THINNERS OR DIGOXIN. CONSULT A HEALTH CARE PRACTITIONER PRIOR TO USE IF YOU ARE TAKING MEDICATIONS TO SUPPRESS THE IMMUNE SYSTEM (IMMUNOSUPPRESSIVE MEDICATIONS). CONSULT A HEALTH CARE PRACTITIONER PRIOR TO USE IF YOU HAVE A PROGRESSIVE SYSTEMIC DISEASE SUCH AS TUBERCULOSIS, COLLAGENOSIS, MULTIPLE SCLEROSIS, AIDS AND/OR HIV INFECTION OR AN AUTO-IMMUNE DISORDER.
KNOWN ADVERSE REACTIONS: STOP USE IF HYPERSENSITIVITY/ALLERGY OCCURS. STOP USE IF YOU EXPERIENCE INSOMNIA, ANXIETY OR HEADACHES.
YOU MIGHT ALSO LIKE