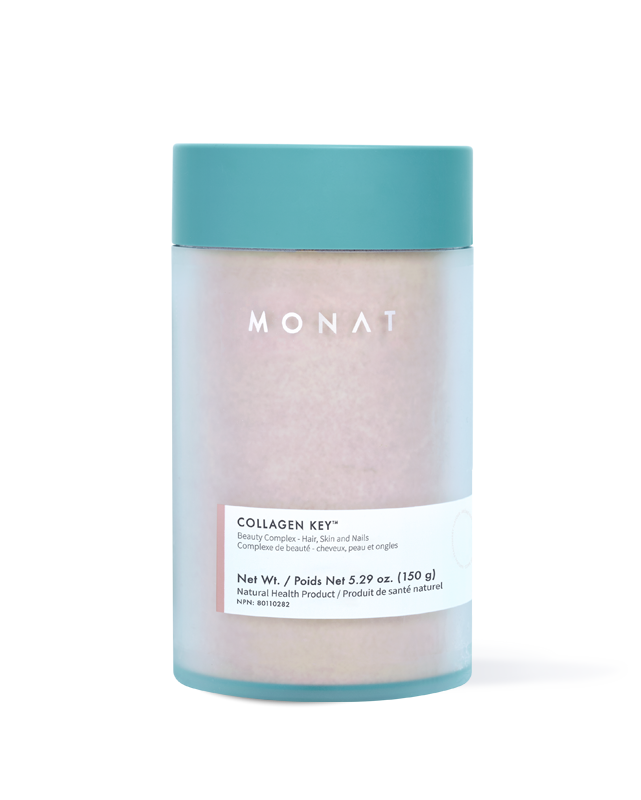 An all-in-one blend to support total beauty from within.
5.29 oz. (150 g) 30 Servings
ON SALE Sunday, September 15 11a.m. EDT
VIP Customer Price
$72.00 (CAD)
Retail Price
$85.00 (CAD)
VIP Customer Price
$77.00 (CAD)
Retail Price
$90.00 (CAD)
To learn more about
Collagen Key™
, please contact your MONAT Market Partner.
A daily serving of inner beauty support in one scoop
A unique all-in-one formula that helps support the body's natural collagen formation to maintain healthy bones, cartilage, teeth and/or gums, and supports hair, skin, and nail health with a completely vegan formula.
Provides a source of antioxidants and vitamins.
Eliminates the breakdown process by providing vegan-sourced amino acids as well as ingredients like Vitamin C which helps in connective tissue formation and is a source of an antioxidant for the maintenance of good health.
/ Vitamin C helps protects cells against and reduces the oxidative damage caused by free radicals
/ Biotin and Zinc support and maintain hair, skin, and nail health
/ Contains Glycine, a non-essential amino acid involved in muscle protein synthesis
/ Potent antioxidants including Resveratrol
/ Sugar-free, vegan formula with natural Peachberry flavour
/ Mix one scoop with 8–12 fl. oz. (235–355 ml) of water once daily.
/ Ensure to drink enough fluid before, during, and after exercise.
/ Take with food, a few hours before or after taking other medications or natural health products.
/ Store at room temperature.
Consult a healthcare practitioner prior to use if you are pregnant or breastfeeding or taking prescription medications as resveratrol may alter the effectiveness of these medications. Keep out of the reach of children.