The Chairman's Award recognizes a Market Partner at the rank of Market Mentor or above who is nominated by the field.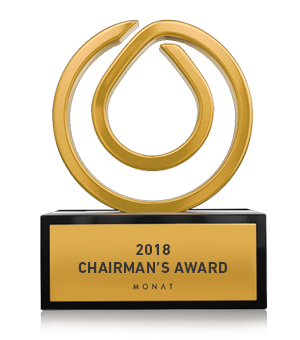 The winner exemplifies MONAT's ideals of gratitude, benevolence, community service, humility, philanthropic efforts and leadership. This award is for a dedicated MONAT Market Partner who has built the spirit of giving and gratitude into successful business and their team's values.

Jennifer Dekezel, Canadian Market Mentor, is truly an inspiration.
Not only does she work as a Police Officer in her home town but she also started a program called GIRLZ WILL BE GIRLZ, which mentors young girls who live in high risk and high crime areas of Toronto, ON.
This unbelievable woman uses the money she makes with MONAT to house some of these girls with bedrooms in her own home. On top of all of that, her MONAT business is strong and unshakeable.
The MONAT Performer of the Year is a Market Partner at the rank of Associate Executive Director or above and who has been with MONAT for more than a year and is chosen based on a point system.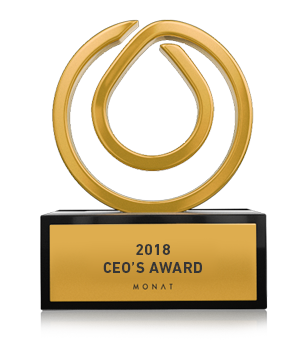 Points are earned by placing 1st, 2nd or 3rd in any of the categories recognized at the annual Dream Bigger Gala. The Director with the most amount of points will earn the CEO's Award that year. This person demonstrates unshakeable commitment to growing his or her MONAT business, overcoming obstacles and showing others how to also find success.

Senior Executive Director Sarah Hill joined MONAT in April 12, 2017, committing herself immediately to the business and building a high-performing team. She was selected to be on the cover of the Q3 2017 Dream Bigger Magazine due to her enthusiasm, dedication and MONATtitude.
A nonstop performer, she came in 1st place in Top Personal Sponsoring, Top VIP Enrollment, Top Personal Volume and 2nd place in Most Promoted Out MMMs in the Director category for 2018 in the USA.
With her amazing commitment and passion, she also was the recipient of last year's President's Award. Indeed, she has put in an incredible performance in 2018! We can't wait to see how Sarah does in 2019! Congratulations on this deserving award to Sarah and Team!!
The Market Partner of the year is our Rookie of the Year Award. This Market Partner, who has achieved the rank of Market Mentor or above, exhibits success in building his or her business in both customer and organizational growth and MONATtitude!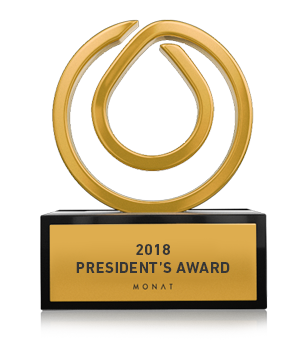 The winner is recognized for leading by example, serving the organization, demonstrating a great attitude and supporting others. This Market Partner embodies what every MONAT Market Partner should strive to become. To qualify for the President's Award, a Market Partner must be Market Mentor or above and have been with MONAT for less than a year. This recipient is based on a point system. Points are earned by placing 1st, 2nd or 3rd in any of the categories recognized at the annual Dream Bigger Gala. The Mentor or above with the most points will win.

Christa Paarni is one of our star performers. She signed up with MONAT in September 2017 and quickly made a name for herself and her team.
Because of her accomplishments, she was selected to be on the cover of the Q2 2018 Dream Bigger Magazine and was 1st place in 2 out of the 4 categories within the Mentor Rank in USA.
Her sponsoring numbers for both VIPs and MPs are out of this world. In 2018, she really succeeded in surpassing her goals and is well on her way to becoming one of MONAT's true superstars. Her results in less than a year made her the 2018 President's award recipient! Congratulations Christa and team!!