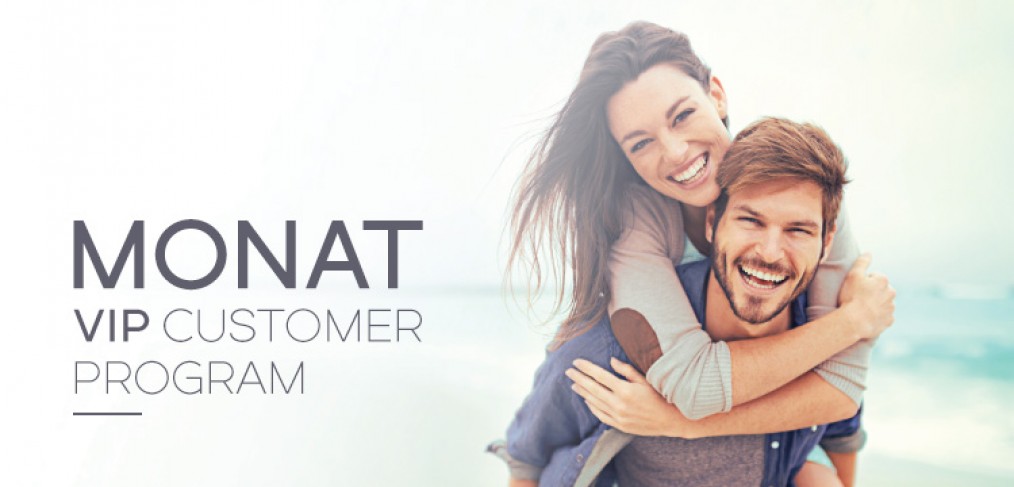 ENJOY ALL OF THE EXTRAORDINARY ADVANTAGES OF BEING A MONAT VIP CUSTOMER FOR A ONE-TIME MEMBERSHIP FEE OF ONLY

$19.99 USD / $24.95 CAD!*
---
As our VIP Customer, you receive exclusive benefits that are not available to the general public, such as 15% OFF retail pricing on all MONAT products, FREE shipping, and FREE product samples!*
---
And that's not all. By maintaining an active VIP status*, you are also granted the following privileges:

MONAT's autoship service*. We'll conveniently deliver your products directly to your door.You can push out your autoship dates and continue enjoying your exclusive VIP perks. (Just be sure to stay active by completing a minimum of three orders within six months.*)

Flexibility to mix and match products in every order. Always receive the items you really need every month.

Virtual VIP Suite. Easily manage your MONAT account online 24/7 and place or edit orders anytime through our safe and secure shopping experience.

3 & Thank You Rewards. Receive $84 USD / $110 CAD in credits each time you enroll 3 friends as VIP Customers and keep receiving them month after month –FOREVER- as long as your VIPs remain active! You can redeem the credits in your next product purchases. It's our way of saying THANK YOU for sharing MONAT!

Credit Coupon. A $10 USD/$12 CAD coupon you receive at enrollment for use on any non-autoship order!

$20 USD / $25 CAD OFF every 4th autoship order. Another way of expressing our appreciation for our VIP Customers.

Birthday Recognition. Get a little extra VIP treatment in celebration of your special day!

FREE VIP Style Magazine. MONAT's trendy seasonal publication, included quarterly in your autoship order.
---
---
Download the general MONAT VIP Program Frequently Asked Questions

*With minimum monthly autoship orders of $84 USD / $110 CAD (VIP price).