 Each year, the Chairman's Award recognizes an Independent Market Partner who has been nominated by other Market Partners in the field as the MONAT Hero of the year.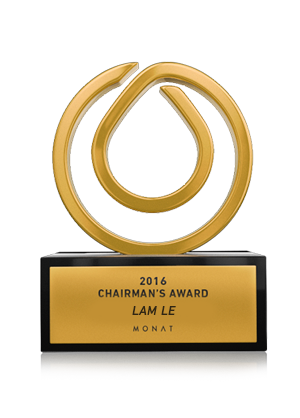 A MONAT HERO
---
A MONAT Hero is someone who does more than build a business and lead a team. This person goes beyond in everything, and exemplifies what it means to be a Market Partner.
A MONAT Hero gives back to the community, helps make the world a more beautiful place, is always ready to serve, willing to support, and puts the success and happiness of others first.
Stay tuned for when 2017 Award Nominations
open later this year!
Meet Lam Le, our 2016 MONAT HERO recipient!
Lam Le is our MONAT hero for 2016 since she is a stellar representation of what gratitude is for MONAT. This is very important, especially since gratitude is our nature.
For Lam Le, who became a market partner in June 2015 and is now an Associate Executive Director, being grateful for her blessings and giving in return comes naturally to her.

A physician who specializes in wound care and limb salvage, Lam is exceptionally passionate and committed to her profession because she is the last stop before one has to consider amputation. She works extraordinarily hard to preserve health and happiness.

Lam came to America from Vietnam as a child with her family and feels extremely blessed for her opportunity to create a fulfilling life.

In return, she pays it forward with an innate instinct to heal the broken-hearted and bandages their wounds.
Lam founded the Heal Foundation to help heal body, mind and spirit for the underserved and needy.

Globally, the HEAL foundation has two clinics in Vietnam that treat wounds for those who cannot afford care.

Locally, her HEAL Foundation runs a wound treatment clinic for those in need in Tulsa, Oklahoma. She also supports other local charities involved with needy children and domestic violence.

Her gratitude for her life…and MONAT, where healthy hair leads to beautiful lives…knows no bounds. She believes MONAT came into her life so she could help others who really need it, one of MONAT's core values.
Thank you, Lam, for bringing safety to the scared and health to the sick. You make the world a better place!
Who is eligible to be a MONAT Hero?
---
Any active Independent Market Partner who has achieved the career rank of Market Mentor or above.
What defines a MONAT Hero?
---
A MONAT Hero is more than a successful Market Partner. He or she is more than a leader of a team. A MONAT Hero truly makes a difference in the community and in the world. The MONAT Hero should embody these characteristics:
Benevolence
Service
Leadership
Humility
Goodwill
Charity
Kindness to others
Community involvement
Giving spirit
Stay tuned for when 2017 Award Nominations
open later this year!