Back-to-School with MONAT
From streamlining your morning hair routine, to back-to-school accessories, here's everything you need for heading back to class.
Back-to-school means waking up at the crack of dawn. Let's face it: you shouldn't have to spend hours styling your hair for your first day of class.  Embrace your natural locks and wear your hair proudly with the help of MONAT's naturally based, botanical products.
The Balance Treatment System is the perfect system for the guy or girl on the go. You see, the products found in this system are designed to work together to restore balance and combat frizz. No frizz = less time styling hair in the morning + silky smooth blowouts. Yes please!
Oh and as with all MONAT products, the Balance Treatment System is salt and sulfate-free, and it helps boost natural hair growth. Sounds like a win/win to me.
The Stylized Treatment System will ensure your smooth, luscious locks, or big, bouncy curls stay in place. Or, if you have second-day-hair, it'll help you part and place each strand where you want it, as this system offers you a variety of options for styling your hair: Taffy, hairspray, and texturizing mist.
Rejuveniqe Oil Intensive, our flagship product, is a great multi-purpose oil to keep in your bag. Use it to moisturize and hydrate skin, smooth pesky flyaways, remove pen marks plus more!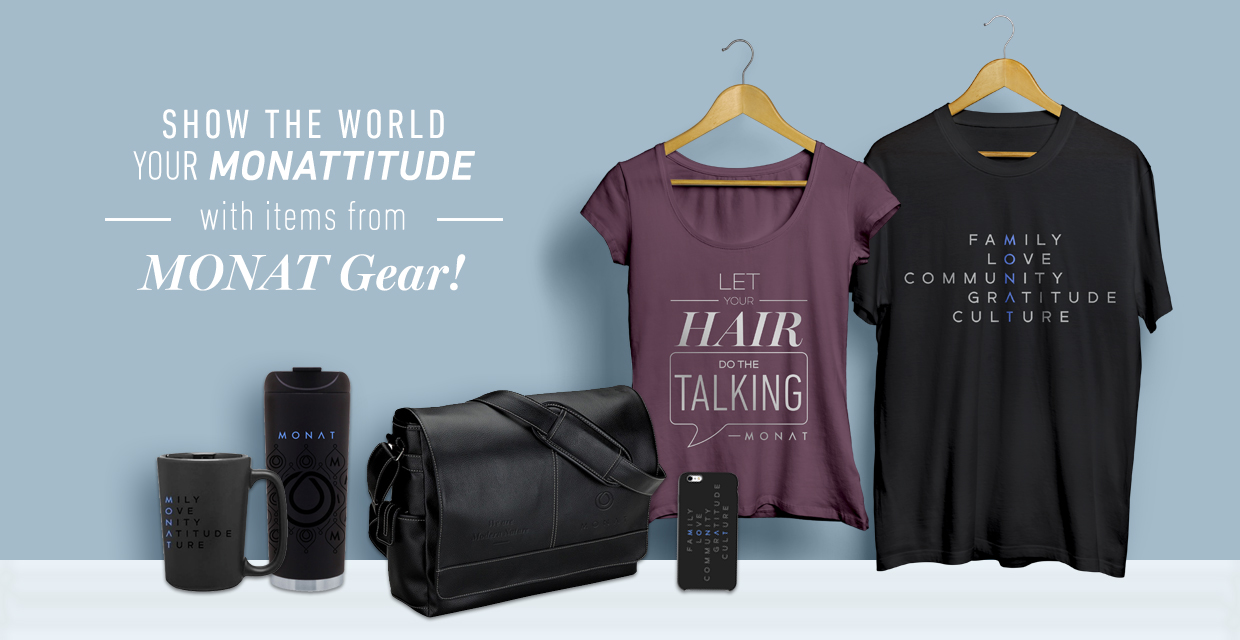 MONATGear.com offers great options of branded gear for you (or your little ones!). Become an ambassador of our brand. These cool pieces are conversation starters.
The MONAT Vertical Steel Bottle is an eco-friendly, reusable bottle that is sure to keep your beverages warm or cold. Perfect for days spent outdoors, or for hydrating on your way to class.
Get down to business with this MONAT Messenger bag. A stylish and comfortable alternative to a backpack! For those who desire a more traditional bag, this MONAT Security Compu-Backpack is a great option to organize your school supplies (and keep your laptop safe and secure).
There's nothing worse than walking to class and getting hit by a downpour of rain. Instead, stay dry with this compact umbrella.
So now that you're done reading this blog post, head over to our YouTube channel and browse our playlists! ☺