 Each year, the Chairman's Award recognizes an Independent Market Partner who has been nominated by other Market Partners in the field as the MONAT Hero of the year.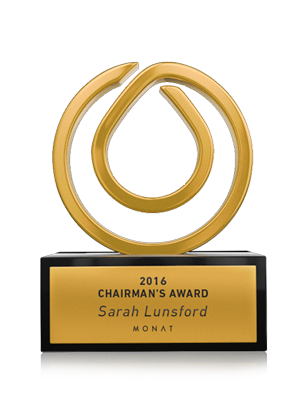 A MONAT HERO
---
A MONAT Hero is someone who does more than build a business and lead a team. This person goes beyond in everything, and exemplifies what it means to be a Market Partner.
A MONAT Hero gives back to the community, helps make the world a more beautiful place, is always ready to serve, willing to support, and puts the success and happiness of others first.
Who will be our 2016 Recipient?
Tell us who you think the 2016 MONAT Hero should be.
Last year we had our first MONAT Hero recipient, Sara Lunsford.
Sara enrolled as one of the very first Market Partners on the first day of pre-launch, August 15, 2014.
With all that MONAT has made possible, she committed to raise funding and support for six more homes at the Soaring Wings Ranch for foster children in Arkansas. Sara's passion is to serve the foster children in her area. She believes that MONAT is a gift, as well as a family. Not only she is a GREAT MONAT leader, but also Sara is an independent market partner that truly goes above and beyond, Sara knows we care about more than hair, and one of our core value is: "we are happy when we help others be happy".
Thank you, Sara, for all you do and for sharing with us the passion of making a difference in the world!
Who is eligible to be a MONAT Hero?
---
Any active Independent Market Partner who has achieved the career rank of Market Mentor or above.
What defines a MONAT Hero?
---
A MONAT Hero is more than a successful Market Partner. He or she is more than a leader of a team. A MONAT Hero truly makes a difference in the community and in the world. The MONAT Hero should embody these characteristics:
Benevolence
Service
Leadership
Humility
Goodwill
Charity
Kindness to others
Community involvement
Giving spirit
Nomination Period
---
Nominations will be accepted until January 13, 2017.
How do I nominate a HERO?
---
Simply fill in the following form and tell us who you think should be a MONAT Hero!