WELCOME TO OUR FAMILY

ONLY INTERESTED IN MONAT'S PRODUCTS?
BECOME A VIP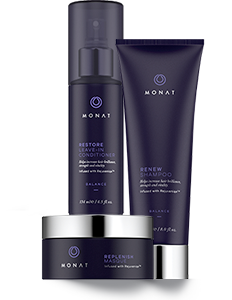 BECOME A MARKET PARTNER
JOIN NOW
The joy of success is even sweeter when it comes from helping people feel good about themselves and opening doors to their dreams.
At MONAT, our mission is to help people have beautiful, fulfilling lives. Our Market Partners have the opportunity to make money and we're very proud of that.
But even more importantly, they have the opportunity to make a difference and be part of something special. There's a place for you here.
Seeing a market void and the chance to successfully fill it, MONAT is the first social marketing company to focus entirely on beneficial, premium hair care.
Our revolutionary line of naturally based solutions addresses the effects of the environment, chemicals, product overuse and even aging. And we do it while saying no to questionable ingredients and animal testing!
This means you're on the cusp of something significant in the world of beauty and hair care. At MONAT, you can help to change the lives of others while changing your own.
The MONAT Opportunity starts with changing your hair…and then it's about changing your life. MONAT provides a generous compensation plan, an exceptionally nurturing support system, and caring, committed leaders who treat you like family.
This is a family business, after all!